Nine ways 2020 was pretty awesome
Now, don't get me wrong. It's been a tough year, challenging in so many ways. I don't want to diminish the real grief and sadness many Australians have suffered in 2020, either directly through illness or indirectly through joblessness, separation from family or otherwise.
But I just can't get on board the "2020 was awful and I can't wait for it to be over" train. Yes it was awful in many ways but it was also awesome – in ways that wouldn't have been possible without the awfulness. And in ways for which we've yearned for many years.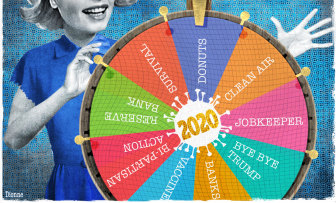 If we had gripes about 2019 and, indeed, the decade or so before that, they were usually this: that our politicians and policymakers were failing to take action on some of the biggest problems of the day, such as climate change or poverty.
But failing to take action is not something policymakers – in Australia, at least – can be accused of in 2020. Never before have public resources been corralled and deployed at such lightning speed and at such magnitude to solve the problems of the day. So before you go writing off 2020, here are nine ways it was actually pretty awesome.
1. We invented JobKeeper. Truly, let's take a moment to marvel at the biggest and most expensive public policy in our recent history. Initially costed at $130 billion, JobKeeper was concocted by sleep-deprived Treasury officials in literally a matter of days. The Reserve Bank now estimates it saved about 700,000 jobs and it certainly served as a vital lifeline for many COVID-affected businesses. Turns out, it's been cheaper than first expected – more like $100 billion because fewer businesses needed it than first expected. Crucially, we managed to keep JobKeeper temporary, proving it is possible to unleash temporary stimulus measures and wind them back. This success adds to the likelihood policymakers can deploy similar actions in the future, as required. Nice one.
2. We slayed the "debt and deficits disaster" bogey man. If you'd told me a year ago that a conservative government would, of its own volition, go on the biggest borrowing spree with the nation's credit card in our history, it would have seemed a fantasy. And, yet, here we are. While the Coalition was critical of Labor's response to the global financial crisis, it turns out that – despite all the hot air – Australian politicians of all stripes can be relied upon to do the right thing in times of economic crisis and commit public resources to cushion against an impending economic downturn.
3. We found out our central bank is still on the job, too. Despite entering 2020 having almost exhausted all its conventional means of stimulating the economy and protecting jobs, our Reserve Bank spent 2020 literally tearing up the conventional rule book and finding new ways to help promote the welfare of the Australian people – as is its mandate. In addition to slashing the official cash rate to near zero, our central bank went on an unprecedented buying spree of government bonds and other instruments in a bid to bring down the cost of borrowing. It worked. Mortgage rates are at historic lows and heading lower, as more Aussies pick up the phone and ask for a better deal. Monetary policy still works.
4. Banks joined 'Team Australia'. Yes, one of the more remarkable features of 2020 was the revelation that banks are not entirely bastards – at least, not in every instance. Early on in the crisis, lenders agreed to give all COVID-affected borrowers a mortgage repayment holiday. Of course, it's not in the banks' commercial interests to have the whole economy and housing sector collapsing. But their swift action to ease the pressure proved welcome relief. Good thing we had that royal commission, right?
5. We successfully – touch wood – contained the spread of coronavirus in Australia. Albeit at considerable cost and inconvenience, the actions taken have, for now, not only flattened the curve of COVID-19 cases, but spurred the invention of the delightful phrase "double doughnut" days. Melburnians certainly bore the brunt of efforts but all Australians joined the fight in some way, from forgoing hugs, to homeschooling (a memory I have filed under the same "do not touch" category as childbirth), to just trying really darn hard not to touch their faces. And it worked. Good job, Australia.
6. Our environment is cleaner as a result of the global reduction in land and air travel. OK, so it turns out the dolphins in Venice canal were a hoax but reduced travel has produced an unprecedented – if temporary – reduction in global emissions, according to a recent study by the Potsdam Institute for Climate Impact Research. Of course, as life returns to normal, tackling climate change remains a major work in progress. But that leads me to number 7.
7. Americans evicted Donald Trump from the White House. They also elected someone committed to net-zero carbon emissions by 2050, which will surely spur global efforts. And they also elected their first female vice-president. Good job, America.
8. Scientists invented not one but multiple vaccines. Nuff said. And finally …
9. If you're reading this, you survived a global pandemic. None of us get much control over the circumstances life throws at us. All we can control is our reactions. And if you're reading this, you made it through every day of 2020. Even the really hard ones.
See? Not all bad.
Source: Thanks smh.com