Bega buys Lion's Australian dairy business in $560m deal
ASX-listed Bega Cheese has struck a deal to buy Lion's Dairy and Drinks business for $560 million, with the transaction to be funded by a $401 million capital raising and debt.
Under the deal Bega will acquire well known milk drink brands such as Pura, Big M, Farmers Union and Dairy Farmers, yoghurts including names like Yoplait and Farmers Union and juices under the Juice Brothers and Daily Juice labels into its fold.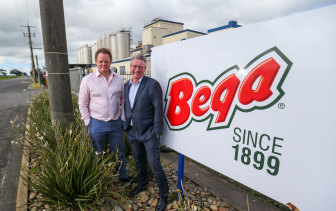 The transaction will give Bega Australia's biggest national cold chain distribution network, which includes a vast network of fridges in convenience stores, service stations and elsewhere. And it will give Bega a substantial presence in the national white fresh milk market for the first time.
Bega executive chairman Barry Irvin said the combined businesses would generate annual revenue in excess of $3 billion and marked a historic moment for Bega Cheese, which started life as a farmer co-operative on the NSW south coast in 1899.
"It's obviously a hugely significant acquisition and a huge step forward for the company in terms of creating that scale-sized branded food company," he said.
The headline price for the deal is $560 million, but Bega said the net price of the acquisition is $534 million, when IT separation costs at Lion are excluded.
Chief executive Paul van Heerwaarden said the company was pleased with the series of acquisitions it had made in recent years, which were achieving or exceeding profit targets.
Mr van Heerwaarden also said the deal would enable Bega to take advantage of growth opportunities in international and domestic markets.
Lion said the sale was unconditional, required no further regulatory approvals and was expected to be completed in early 2021.
"The sale will see Bega, as an established dairy and food company with more than 120 years of heritage, well placed to drive the business forward given its deep dairy capabilities and strong commitment to iconic Australian brands and the local dairy industry," said Lion chief executive Stuart Irvine.
Mr Irvine said the deal was an important step forward for Lion, and would enable continued investment in priority categories of core beer, craft beer and seltzer in the Australian market and international markets.
Lion, which is owned by the Japanese brewer Kirin, has a large portfolio of beer brands including XXXX, Tooheys and West End, and craft beer names including Little Creatures.
Late last year Lion had struck a deal to sell its dairy and drinks business to China Mengniu Dairy for $600 million. The proposed transaction was green-lighted by the corporate regulator, but was rejected by the federal government about three months ago.
To fund the deal Bega will undertake a capital raising at an offer price of $4.60 per share, equating to about 87 million new Bega shares.
The $4.60 offer price represents a 9.1 per cent discount to Bega's last traded price last Friday. The capital raising includes a 1 for 4.5 pro-rata accelerated non-renounceable entitlement offer of about $220 million, and an institutional placement of about $181 million.
Bega shares remain in a trading halt until Friday.
Source: Thanks smh.com