Lynas defends equity raising to fund expansion
Lynas chief executive Amanda Lacaze said the rare earth group's soaring share price is a vindication of the decision to fund its ambitious growth plans with a capital raising as it reported that demand for its ores recovers from the COVID slowdown.
Ms Lacaze told shareholders at the company's annual meeting that demand was strong in its key markets of Japan and China.
"Despite the uncertainty introduced by the global pandemic, underlying growth drivers remain unchanged and we are pleased that demand appears to be returning to pre-COVID levels," she said.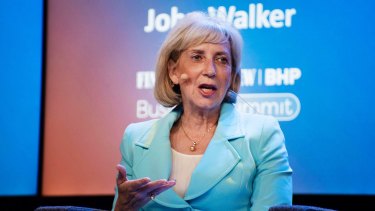 "In particular, the demand from our Japanese customers is strong and demand is strong inside China."
The news sent Lynas shares to its highest levels since 2013 with the stock topping $3.85, but it led to questions about Lynas raising $425 million at $2.30 a share in August to fund its new processing facilities in Kalgoorlie and US expansion rather than using debt.
"We felt that equity funding was the right path," she said.
"You don't want us to be in that sort of debt mess again, I got to tell you. I don't want to be in that debt mess again," said Ms Lacaze about the company's debt woes which would have led to its collapse if not for the support of Japanese government agencies.
"The fact that shares are trading more than 60 per cent above the raising price vindicates the board's decision as it demonstrates the company has not destroyed our equity foundation in this business."
Last year Lynas restructured $US147 million ($200 million) worth of debt with JARE – a special purpose vehicle set up by Japan Oil, Gas and Metals National Corporation (JOGMEC) and Sojitz – the Lynas distribution partner in Japan – to ensure supplies of these crucial metals to Japanese industry in return for priority supply of its rare earths.
These rare earth ores -17 elements crucial to the manufacture of many hi-tech products such as mobile phones, electric cars and wind turbines – have become a geopolitical issue with China controlling 90 per cent of supply.
The debt extension by JARE was designed to help fund Lynas's plans to spend $500 million by 2025 on value-added processing in the US and Malaysia as well as setting up a processing plant in Western Australia, near its Mt Weld mine, to extract radioactive waste from its rare earths before it is shipped to Malaysia.
Ms Lacaze said that Lynas is meeting the timeline for the US heavy rare earths tender but indicated that the pandemic is an issue.
"I would not send any of our people to Texas right now," she said. "So that is an issue for us."
This week UBS put a price target of $4.05 on Lynas shares due to rising demand for e-vehicles.
UBS said e-vehicle demand is expected to rise from 2 million now to 36 million cars by 2030 which should see demand for rare earth compound NdPr more than triple to 30,000 tonnes per annum.
UBS lifted its price expectations for NdPr on the basis that there is not sufficient investment to meet this demand which will be a boon for players like Lynas which mines and processes its own ore.
"Lynas assets are very strategic, having the best rare earth deposit globally, in our view, being exploited through the only active non-China processing facility," said UBS.
Market Recap
A concise wrap of the day on the markets, breaking business news and expert opinion delivered to your inbox each afternoon. Sign up for the Herald's here and The Age's here.
Source: Thanks smh.com