'The worst we've seen': Telstra faces $50m penalty over 'exploitative' contracts
Telstra will face court and a penalty of up to $50 million for selling more than 100 Indigenous consumers phone contracts they didn't understand they couldn't afford.
The telco giant admitted it breached consumer laws for poor sales practices that took place in five Telstra stores in the Northern Territory, South Australia and Western Australia between 2016 and 2018. The concession has prompted Australia's competition regulator to start federal court proceedings.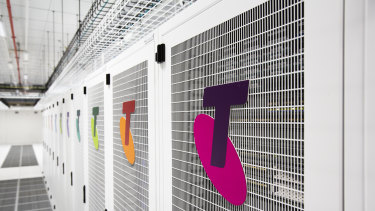 The court hearing and potential penalty follows a year-long investigation by the ACCC into potential breaches of consumer law by the telco giant. ACCC chair Rod Sims said the case exposed behaviour which exploited the vulnerabilities of consumers and was probably the worst case of unconscionable conduct the competition regulator had seen to date.
"This is probably the worst we've seen," Mr Sims said. "In about 2014-2015, we had the Coles unconscionable conduct case where they were ringing up small businesses suppliers… and they were faced with demands for payments sometimes by the end of the day and if they didn't make them Coles would stop buying from them. That was pretty brutal.
"This is much worse because of the exploitation of social, language, literacy and cultural vulnerabilities. The massive stress and anxiety that this caused for the individuals involved.
"People were in great fear and in 70 per cent of the cases, Telstra put the debts in the hands of debts collectors," he said.
Telstra has admitted that staff at five licensed stores in Alice Springs, Casuarina, Palmerston, Arndale and Broome took advantage of 108 customers with poor English speaking skills, difficulty reading, and some who were unemployed when they convinced them to buy mobile phone plans.
In some cases staff did not provide a proper explanation of how much the plans would cost the customers, and in some instances gave the impression their products were free. Some staff also falsely indicated in credit assessments that a consumer was employed. The average debt per consumer affected was $7400 and the average bill they were charged was about $320 per month.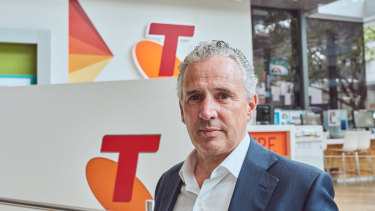 "We were quite surprised by what we found," Mr Sims said. "Sometimes the consumers were sold plans that you only need when you are travelling overseas – overseas data allowances. Sometimes they were told the products were for free. Many times staff manipulating the credit assessment because it was obvious people could not afford to pay off these plans."
Telstra referred some unpaid debts to collectors, but has since taken steps to waive these debts, refund money paid and introduce steps to prevent this behaviour from re-occurring. The telco's annual results reported its chief executive Andy Penn and other key executives missed out on $758,000 worth of incentives last financial year because of the poor practices.
Mr Penn apologised on Thursday for the behaviour of his staff and said the company was focused on remediating the 108 affected customers.
"What I can guarantee is that we are absolutely committed to continue to look at our sales practices and to make sure this sort of thing happening doesn't repeat," Mr Penn told The Sydney Morning Herald and The Age. "A number of people on the front line in this situation and employed [by] those licensees unfortunately didn't follow our processes and in some cases manipulated our processes, so that includes obviously having a better governance framework in place so we can better identify that sort of activity sooner than we did this time."
Mr Penn said Telstra had let itself down by failing to understand how communities work and use phones. "There is a lot of sharing – one of the things that I learned when I visited many of these communities is one of the practices and norms within them is sharing of devices that led to devices being shared among the community and some customers receiving excess data charges because the broader community used the device and not them," he said.
The court will determine how much money Telstra will be fined, but the ACCC has also accepted a court-enforceable undertaking from Telstra which includes remediation for affected customers and a review and expansion of its Indigenous telephone hotline. Should the court decide on a $50 million penalty, it would be the second-highest penalty imposed under Australian consumer law.
Mr Sims said he is confident this behaviour will not occur in Telstra stores "for the foreseeable future".
"In my view, only when we get penalties of this sort, do we get companies taking the behaviour seriously," he said. "We want to send a message to Telstra and all companies in Australia that this is completely unacceptable behaviour."
"You have an obligation to put in place systems so that there is not inappropriate behaviour going on. Telstra did not have those systems in place and they absolutely should have."
Teresa Corbin, chief executive of the Australian Communications Consumer Action Network, said the behaviour was extremely disappointing.
"The $50 million fine being proposed should be a strong disincentive to other retailers who do not comply with the law in protecting vulnerable customers," Ms Corbin said.
Market Recap
A concise wrap of the day on the markets, breaking business news and expert opinion delivered to your inbox each afternoon. Sign up for the Herald's here and The Age's here.
Source: Thanks smh.com