Car parking spaces set to to be filled as workers return to the city
Capital city car parking occupancies have recovered "spasmodically" since the height of the pandemic, but Melbourne's lots remain largely vacant and steep discounting means improved patronage is not translating into revenue gains for the battle-scarred sector.
Parking Australia estimates that Sydney's CBD has returned to 75 per cent occupancy and Brisbane's car parks are 85 per cent full.
Chief executive Stuart Norman said: "But competition is quite fierce and that is keeping prices down."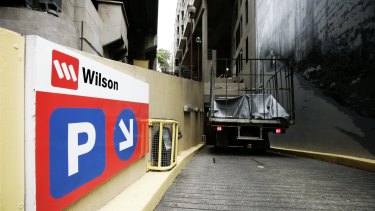 The country's biggest private operator, Wilson Parking, reports its national occupancy levels are back to 90 per cent in its 180,000 spaces, after falling to an average 30 per cent at the height of the lockdowns.
Its Melbourne occupancies slumped to 5 per cent during the city's second period of isolation.
Wilson Parking chief executive Stephan Wuffli said: "Pretty much all the states are back to pre-COVID occupancy, except for Melbourne, which is still sitting around 10 per cent.
"But our revenues are down 30 per cent to 50 per cent because of heavy discounting."
Care Park, another major operator, says occupancies fell to as low as 25 per cent in parts of Sydney, but have since rebounded to 75 per cent. In Melbourne, its usage stands at 30 per cent.
Mr Norman said parkers were enjoying the lowest prices seen in decades. He cited Melbourne CBD early bird rates of $9 a day, about the price of a daily train ticket.
Sydney pricing was also keen. Daily rates now start at $16 a day, compared with $18 to $24 a day pre-pandemic.
Mr Wuffli said patronage had shifted from traditional all-day office workers to users who had previously used public transport but had bought a car for hygiene reasons.
"They are more focused on what they pay than our previous customer base," he said.
"So while our parking lots are occupied it's a very different revenue make-up than what it was pre-COVID."
Mr Wuffli said off-peak and weekend use had already been in decline, partly due to the increased use of rideshare services.
"There will be fewer short stay and off-peak parkers and more focus on the office worker," he said.
In Melbourne, operators were keenly awaiting Monday's staged return of workers to the CBD, the next stage of Victoria's schedule of easing restrictions.
Care Park managing director Robert Belteky said the measure – under which allowed 25 per cent of a company's workers would return to their desks – was expected to boost Melbourne occupancies to 50 per cent.
He expected Sydney occupancies to climb to 80 per cent by Christmas, "with almost full recovery to pre COVID levels post-Australia Day".
While the sector-wide revenue slump implied lean times for owners and operators of car parking assets, the pain had been disguised by the fragmented and indirect nature of ownership.
Mr Wuffli said: "Car parking operators are one of the biggest renters of commercial property."
He said Wilson Parking was paid $180 million in rent a year ahead of the pandemic – high enough for it to be ineligible for mandatory rent relief.
But he said new leasing contracts reflected "industry conditions" and that this would shave the operators' rent by $30 million, or 16 per cent.
"Landlords have been very professional but they have been inundated with (relief requests from) small to medium retailers and we have had to do it tough without genuine rent relief to date," he said.
Car park owners include listed property trusts such as Charter Hall, Dexus and GPT and the superannuation funds, notably the property-focused Cbus.
Source: Thanks smh.com