Good Beer Company reaps $8.25m in Four in Hand pub sale
Having been saved from demolition by the local residents two years ago, the popular Four in Hand pub in Paddington has been sold to a private operator for $8.25 million.
John Azar's Good Beer Company stepped into by the Eastern Suburbs institution in 2018, paying just over $7 million to keep it going.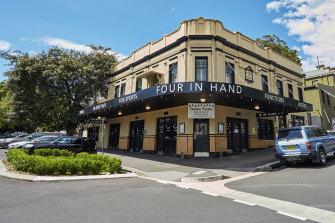 That purchase followed months of furore when a local resident lobby group amassed more than 12,000 signatures, including the former News Limited chair John Hartigan, in effort to keep the business operating as a hotel – as distinct from being developed into residential dwellings.
The sale comes only two days after Mr Azar sold the Randwick-based Duke of Gloucester pub, known as the DOG, to pub tsar Justin Hemmes for $32 million.
"It's quite bittersweet selling the Four, it has such a great local and loyal following and everyone loves it; we wish the purchaser's every success with it and look forward to seeing them down there," Mr Azar said.
JLL Hotels' senior vice-president Ben McDonald and national director John Musca did the deal on behalf of the Good Beer company for the Four in Hand and the "DOG" and said the sales mark the end of a strategic divestment program by the owners.
The local institution has been frequented by some of Sydney's most famous identities including the much-loved recently deceased John Fordham, who now has a private function room named in his honour at the hotel.
"Generating significant enquiry, the pub attracted interest from hoteliers and hospitality identities looking to build on the hard work undertaken by Good Beer Company, many of whom had a strong existing affiliation with the asset," Mr McDonald said.
"Ultimately, the chance to secure such a loved community hotel was the driver for the purchaser, a private, Sydney-based hotelier who is set to take the keys in January 2021."
Mr Musca said with the sale of the Four In Hand, JLL Hotels has now transacted over $260 million worth of hotel assets in the last two weeks alone which "speaks volumes about the overall interest and buoyancy of the NSW hotel market".
Other recent sales include by the ASX listed Redcape group's acquisition of the Gladstone Hotel in Dulwich Hill, in a transaction also managed by JLL for $38 million.
Source: Thanks smh.com