Macquarie CEO lays out plan for boosting diversity in workforce
Macquarie chief executive Shemara Wikramanayake says a natural resilience has enabled her to move past racial and gender biases to secure one of the most powerful roles in business but she now wants to create change so others can do the same.
Ms Wikramanayake used her keynote speech at a fundraising event for Chief Executive Women on Thursday evening as a call to arms for girls of any ethnicity, sexuality or ability to study STEM (science, technology, engineering and mathematics) subjects and consider a career in finance.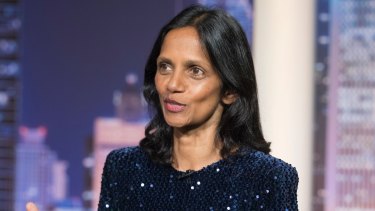 Only 35 per cent of people who apply for jobs at Macquarie are women, she said, and lack of childcare and entrenched discrimination have contributed to only women representing only "low double digits" in senior leadership roles.
Ms Wikramanayake wants to change this by making the hybrid work arrangements established through COVID-19 permanent, supporting tax concessions for childcare and partnering with universities to encourage more women to enter finance.
"My main message to girls out there is – is why let boys have all this fun?" she said.
"Working to ensure diversity of thought and capability is critical. We've seen many times a diverse team delivers stronger results than any individual or homogenous team."
For a chief executive ordinarily guarded about her personal life, Ms Wikramanayake shared the story of her upbringing to demonstrate how she used adversity to her advantage.
Today I don't see myself as a female CEO with brown skin.

Macquarie CEO Shemara Wikramanayake
Ms Wikramanayake was born in England and at at three months old was sent to Sri Lanka as an unaccompanied minor to live with her grandparents. At eight, she moved back to England to live with her parents where the family experienced financial hardship.
"This could have been unsettling as a child but I looked at it as an opportunity," she said. "Possibly from natural resilience, I was able to quickly accept that I could do nothing about our circumstances. But I appreciated I still have choices and things I could control, including my attitude."
"Being curious and social, I resolved to embrace the frequent change the opportunity to learn from different cultures and perspectives," she said. "I saw the adventure in my nomadic childhood."
This resilience prepared her for discrimination she would face in the workplace. Ms Wikramanayake has been at Macquarie for three decades and said as a young adviser, she was asked to lead a complex transaction in Melbourne.
"I encountered a senior client who didn't have confidence that a very young looking, brown skinned female would be able to get the job done in what was an important moment in the company's journey.
"I could have been demotivated or lost confidence from this," she said. "I was instead focused on my responsibility to help deliver the necessary outcome for this client."
"After the deal concluded successfully, he took me aside and thanked me for teaching him about irrational prejudice and was happy to have me lead further transactions for his company."
Ms Wikramanayake, who became Macquarie CEO almost two years ago, said she has focused her energy on "things I can impact" and implored others to do the same.
"Today I don't see myself as a female CEO with brown skin," she said. "I see myself as a CEO who is one of today's custodians of a business built over 50 years plus by 75,000 people, cumulatively delivering innovative solutions and strong outcomes."
Around 60 per cent of Macquarie's global workforce has now returned to work from the office on a voluntary basis, she said, and flexible work conditions will be now be a permanent feature, for Ms Wikramanayake personally as well.
"I spent a whole part of my career missing dinner with family on weeknights because I got home after 8pm," she said. "I've [now] been able to have dinner at home and still do my late night calls."
Market Recap
A concise wrap of the day on the markets, breaking business news and expert opinion delivered to your inbox each afternoon. Sign up for the Herald's here and The Age's here.
Source: Thanks smh.com