Penfolds maker Treasury Wine in the 'firing line' of fresh China trade strike
The country's biggest wine company Treasury Wine Estates faces turmoil in its largest export market after Chinese regulators slapped a sudden 169.3 per cent tariff on its exports from Australia.
Shares in the ASX-listed company behind names such as Penfolds, Wolf Blass, Beringer, 19 Crimes and Lindemans tumbled 11.3 per cent to $9.23, wiping almost $845 million from its market capitalisation before it went into a trading halt at lunchtime Friday.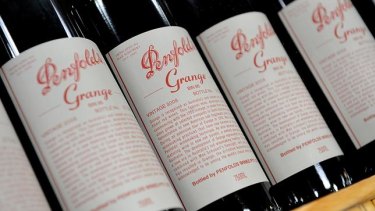 Treasury subsequently requested that it remain in a trading halt potentially until Tuesday, December 1. Treasury and other Australian wine exporters will be hit with the tariff, which in many cases vary from company to company, from November 28.
The tariffs range from a low of 107.1 per cent, to a high of 212.1 per cent, levels which could severely hit the competitiveness of Australian wines in China.
"TWE is reviewing the details of the provisional measures as a matter of urgency in order to update the market," it said.
We recognise that for any of these companies operating in the export areas with China at the moment they're in the firing line.

Angus Gluskie, chief executive of White Funds Management
China is Treasury's biggest single export market, and while the $6.6 billion wine giant does not disclose the value of its wine exports to China, its annual revenue from the market is widely believed to be hundreds of millions of dollars a year.
In 2018-19 Treasury's total revenue from its Asia division jumped a hefty 36.8 per cent to $748.9 million, largely powered by the rising appreciation of Chinese wine drinkers for Australian red wine. JP Morgan recently esimated that China accounts for about two-thirds of Treasury's sales in Asia.
In the 12 months to the end of September total Australian wine exports to China rose 1 per cent to $1.26 billion, even as volumes fell 12 per cent. The result cemented Australia's position as the wine export nation with the largest market share in China.
MOFCOM documents suggest Casella Wines faces a 160.2 per cent tariff on exports to China, while Accolade Wines, ASX-listed Australian Vintage and Pernod Ricard face a 160.6 per cent tariff. A spokeswoman for Accolade declined to comment.
Angus Gluskie, managing director of long term Treasury investor White Funds Management, said he was not surprised by the new hit on Australian wine exports, which he thought was "inevitable".
"We recognise that for any of these companies operating in the export areas with China at the moment they're in the firing line and it's not just wine, it's been barley it's been other goods as well. It's a by-product of international relations," he said.
"As an investor I'm sure all of us would prefer to see the international angst removed, so that there's free and fair trade," he said.
At Treasury's recent annual meeting its chairman Paul Rayner told shareholders the company was planning for a potentially severe tariff, but also said Treasury was committed to China for the long term.
"We're preparing for a range of potential outcomes, from mild to severe tariffs, and we're undertaking detailed scenario planning to ensure we're prepared, once the investigation outcomes are known," he said.
Treasury chief executive, Tim Ford, told The Age and the Herald after the meeting that Treasury would be able to respond quickly to whatever decision was made by Chinese regulators.
"It's a wide range of tariff scenarios, and I won't declare the actual percentages we're working to but some of them are certainly more dramatic than others," he said at the time.
Industry leaders held urgent talks on Friday afternoon to discuss the China move.
"We don't see it's justified and we're obviously deeply concerned about what it does," said Tony Battaglene, chief executive of Australian Grape and Wine.
"It's all rather academic up around those levels anyway. Because once you're up at 160, 200 per cent, essentially it's going to be very difficult to sell product that consumers are prepared to pay for," he said.
The tariff comes after an investigation by MOFCOM into claims that Australian wine was dumped in China. It is the latest trade strike by China against Australian exports this year and follows new restrictions on barley, beef, timber and seafood exports.
Source: Thanks smh.com