Hospital's expansion leaves a bitter taste as last drinks called at iconic pub
Councillors and community members have complained the inner city suburb of Darlinghurst is being slowly subsumed by St Vincent's after the hospital snapped up the 127-year-old Green Park Hotel for conversion into a mental health clinic.
The sale from Bruce Solomon and Matt Moran's Solotel, revealed by the Herald on Tuesday, was inked for a rumoured $8 million, with the cash partly going toward the hospitality empire's redevelopment of the Abercrombie pub at Central Park in Chippendale.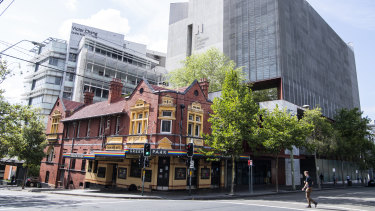 But Darlinghurst locals are livid the beloved Green Park was offloaded in a private deal, arguing the hospital could have easily found alternative sites for its mental health clinic in the eclectic suburb.
"The expansion of St Vincent's can't go unnoticed," said actor and producer Gus Murray, who has established a "Save the Green Park Hotel" Facebook page and met with a town planner on Friday to discuss options. "I feel this is their modus operandi. Personally I don't see why they would need it."
Liberal councillor Christine Forster said there was a huge need for mental health facilities but there were plenty of empty commercial spaces which could have been adapted for such a service.
"It didn't have to be a heritage pub which has a really special cultural significance to the suburb and the LGBTI community," she said.
However, St Vincent's objects to assertions it is buying up the suburb, and a spokesman confirmed it was Solotel that "approached" the hospital for the sale.
The hospital faces limits on what it can do with the building due to heritage orders. A hospital spokesman said the exterior would remain intact and the interior would only be slightly altered.
He said the clinic would be "a warm, welcoming environment that will be used as a cafe-style retreat rather than a typical and more sterile environment of a hospital clinic".
Solotel owns and leases 29 pubs and venues across Sydney including the Darlo Bar and Kings Cross Hotel which are near the Green Park.
Mr Solomon said it was a difficult decision to sell the popular hotel but the area was "not trading anywhere near what it used to", blaming the state government's 2014 lockout laws, which have now been largely repealed. He said Solotel would keep the hotel's licence for use at another venue at another time.
Cr Forster acknowledged the deal had already been done but called for a community campaign similar to efforts that saved Paddington's Four in Hand pub from development in 2018. She has written to St Vincent's Hospital to put her case.
The closure of the pub will hurt surrounding restaurants and shops in Victoria Street, which was already struggling significantly, she said. "There will be knock on effect, it has to happen."
Mr Murray described the hotel as "almost literally a second home". "It's gays, straights, nurses, theatre people … it's a pub where everybody feels comfortable and welcome," he said.
Source: Thanks smh.com