Flexigroup joins the banking rush
Two years have passed since Rebecca James joined Flexigroup as its new chief executive, and she says the buy now pay later pioneer is finally ready to make its bet on the sector pay off.
The first step came in 2019, when the company consolidated its product range and introduced new payments brands humm and bundll. The latter utilises humm's buy now pay later service but allows customers to use it with any retailer and consolidate their purchases into one repayment package.
The personal finance group officially changes its name to Humm Group Ltd as of this week as it embraces a different path to Afterpay and Zip Co to find its own form of global dominance.
It's a deal with Mastercard – unveiled at Flexigroup's shareholder meeting this month – which James describes as the "full stop" on the transformation of the business.
"It's a real demonstration to the markets that we're a FinTech that can compete on a global scale," she says.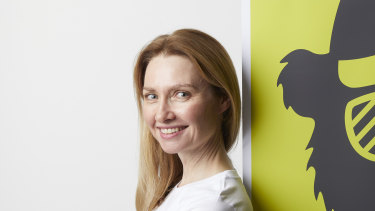 This latest deal with Mastercard will take bundll to banks around the world which are seeing their business being eaten by fintech aspirants like Afterpay.
According to James, the success of buy now pay later "supercharged" Mastercard's ambition to assist its bank partners around the world to solve what is becoming quite a significant problem for banks: The displacement of its customer base away from credit cards to buy now pay later as a form of finance.
"This has caught many banks off guard. And they're now staring down the barrel of quite significant revenue gaps within their portfolio," she says.
Revenue gaps are not the only form of disintermediation the banks are worried about. As Afterpay has demonstrated, the data it gathers on its 11 million strong customer base is just as valuable.
"There's loss of revenue through their own card products but the other piece which in some instances is even more valuable is the data, and the behavioral data about their customers," says James.
"Particularly their younger customers, because they're losing sight of all purchase behaviour of credit behaviour, which they're no long getting line of sight on."
Flexigroup says it is in talks with a number of banks, and hopes to have a deal to announce by its first half results in February.
It is looking at a number of different business models with its potential bank customers including a white label version of its bundll product that sees it act as a fintech service provider and clip the ticket on transactions provided for the bank client.
Flexigroup is also looking at joint ventures and co-branded opportunities.
The latter would potentially involve joint customer ownership, and potentially joint funding for the receivables book that would need funding.
"So this is part of the partnership model that we have in MasterCard is through three or four different commercial models that can work in a number of different situations."
It is a very different model to Afterpay which is attempting to conquer the buy now pay later world under its own steam and co-opt Westpac's cloud-based banking service to expand its reach into the basic transaction services of its client base in Australia the US and UK.
Flexigroup is taking a very different approach, and this extends to the markets it is targeting.
"Some of the conversations that we're having had been more pointed towards some of the Asian markets where there is definitely more room from a competition perspective. But the conversations have been fairly broad, across many markets, but there's a particular interest from Asia."
It has piqued the interest of both analysts and the market.
"We highlight Flexigroup's flagged international expansion for both humm (two countries, UK indicated) and bundll, which we view as a potential strategic turning point for the company," says UBS analyst Apoorv Sehgal.
The strategy, and a favourable update on Flexigroup's lacklustre performance this year, may have found favour with analysts although it is still nowhere near enough to get Flexigroup back to the $2 mark where it started the year. That share price plunge and its weak results pre-dated the economic downturn sparked by the coronavirus pandemic.
Flexigroup in its February downgrade blamed weak consumer conditions, which particularly hit is consumer lending arm outside of the recently re-labelled buy now pay later division: humm.
In April Flexigroup confirmed trading softened, as it said it would tighten credit assessment across its three lending businesses and bringing forward cost cutting measures as a bulwark against the coronavirus-induced downturn.
Flexigroup, which has buy now, pay later, credit card and small business lending operations, suspended marketing activity, renegotiated with suppliers and reduced boardroom and executive pay for the last three months of the 2020 financial year.
Source: Thanks smh.com