nib Group says young being 'overtaxed' on health insurance
The boss of $2.3 billion health insurer nib Group has renewed calls for the country to review health insurance regulations as the sector continues to struggle to hold on to younger members.
The federal government committed in October's budget to a review of private health insurance including rebates and the "risk equalisation framework", which helps support funds with a higher proportion of sick and elderly members. Tenders for these reviews have now been released, with work set to begin next month.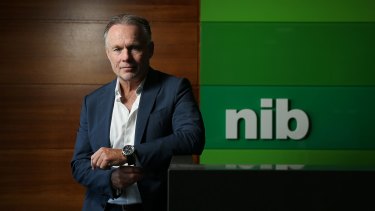 Health insurance in Australia is community rated, meaning members pay the same for policies regardless of their risk profile or expected claim costs. To maintain this, funds contribute to a "risk-equalisation pool" in which younger members help to cross-subsidise older or sicker members who make more claims.
Nib has been made to pay more into the pool than other funds because of its younger member base. It contributed $223 million in the 12 months to September 2020.
Chief executive Mark Fitzgibbon argues the system is not working effectively and doesn't reward funds for managing the risk of its older members. Nib says the current system sees about $900 of its basic product, worth around $1100, absorbed by obligations to risk equalisation.
"I haven't got the answer on this but I think we have to recognise the problem is younger people are being overtaxed and are leaving [the sector] as a consequence," Mr Fitzgibbon said.
He also argues the system doesn't incentivise health insurance funds to manage their claims for older customers. When claiming from the pool, funds record the actual claim amount for members, rather than a predicted amount ahead of time.
One option would be to make claims prospective, meaning funds would record expected member claims for more at-risk members when they signed up for policies and would then be driven to help manage those claims.
Mr Fitzgibbon says there is now appetite across the sector to manage risk more effectively.
"My own view is there is emerging consensus in the industry for rewarding insurers to manage risk," he said.
Chief executive of lobby group Private Healthcare Australia Dr Rachel David said one of the major challenges the industry faced is maintaining the community rating, or the idea that customers pay the same for policies regardless of risk.
"To maintain that is very difficult — it means that young people cost subsidise older people," she said.
She said it was appropriate to revisit what levers could be pulled to encourage younger members to stay in the system.
Quarterly private health insurance data from the Australian Prudential Regulatory Authority (APRA) for the September quarter showed that hospital memberships grew over the past three months but the overall proportion of the population insured fell to 43.8 per cent.
One factor in this was membership growth was driven by older customers, while more than 9,000 Australians aged 20 to 49 dropped their policies.
"Younger people have a lot of pressures on them at the moment," Dr David said.
The sector's net margins fell to 2.1 per cent over the past 12 months, putting further pressure on the sector.
The sector has also been pushing for the private health insurance rebate to be restored to a flat rate of 30 per cent, which could keep younger members in the system by delivering them better value.
Source: Thanks smh.com