Kathmandu chief unexpectedly quits for top job at Austrade
The chief executive of outdoor retail giant Kathmandu, Xavier Simonet, has unexpectedly quit his job to take up a new post as the head of Australia's trade and investment commission Austrade.
Mr Simonet announced on Monday he will leave the ASX-listed company within the next six months after a five-and-a-half-year stint in the retailer's top job.
Kathmandu chairman David Kirk said his departure was unexpected and the company's board found out about Mr Simonet's resignation on Friday evening after the market had closed.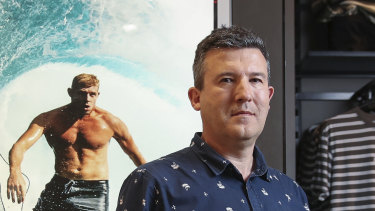 "It was fairly brief, but I believe Xavier had been considering a role in the public service of some description for a while," Mr Kirk told The Age and The Sydney Morning Herald.
Mr Kirk acknowledged it was unusual to see private sector executives move into the public sector given the two are rarely compatible and often come with a pay cut, noting that Mr Simonet had a "real motivation" to make the move.
"He's talked about his desire to have some part of his working life working for the public good, and these high-level jobs for which a private sector person is very well prepared for don't come up very often," he said.
Trade minister Simon Birmingham made the announcement on Monday morning, saying Mr Simonet's appointment came at a critical time as the country was navigating significant trade uncertainty off the back of COVID-19.
"Mr Simonet will bring proven and strong leadership to Austrade as it plays its part in helping Australian businesses to navigate through and bounce back from this significant period of economic and trade uncertainty," he said.
"Bringing a distinguished career in brand sales and marketing, international market development and acquisitions, I am sure that Mr Simonet's extensive knowledge and wide international experience will serve Australian businesses well."
During his tenure at Kathmandu, Mr Simonet has overseen the acquisition of footwear brand Oboz and last year's $350 million purchase of surfwear brand Rip Curl, along with steering the business through the COVID-19 crisis.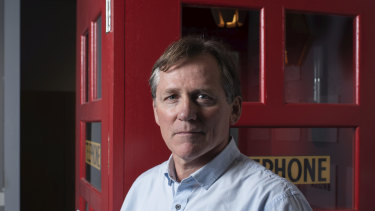 The retailer has been one of the worst affected by the pandemic, with its profits almost halving over the 2020 financial year. Last week it released a mixed trading update, with sales across the group rising 73 per cent but sales in the company's direct-to-consumer segment diving 21 per cent.
Mr Kirk said the company would likely begin a global search for a new chief executive, but noted that the company had a number of strong internal candidates who could be considered.
"Our two major brands [Kathmandu and Rip Curl] are run by highly capable executives with good experience," he said. Any candidate would be required to have a strong knowledge of the technical side of the company's brands, along with Kathmandu's multi-channel operation.
Rip Curl is headed up by Michael Daly, the surfwear company's former chief executive while it was still privately owned. Kathmandu is led by Reuben Casey, the group's former chief operating officer.
Shareholders reacted poorly to the news, with shares falling 5.1 per cent to $1.16 in early trade. Rod Duke, a significant shareholder and the chairman of Briscoe Group, said he was surprised by the announcement but wished Mr Simonet well.
Mr Simonet said the last five-and-a-half years at Kathmandu had been "awesome" and "immensely exciting".
"The group has great brands, passionate teams and strong values. I am very grateful to our teams, to the board of directors, to our shareholders and to my chairman, David Kirk, for their support," he said.
Business Briefing
Start the day with major stories, exclusive coverage and expert opinion from our leading business journalists delivered to your inbox. Sign up for the Herald's here and The Age's here.
Source: Thanks smh.com