'Facebook needs to improve': Social media giant to face scrutiny as backlash intensifies
A member of a new oversight board that will scrutinise decisions by Facebook to remove posts from its main platform and Instagram has said the social media giant must do more to eliminate hate speech and misinformation.
Katherine Chen, former commissioner at Taiwan's national communications commission, is one of 20 members of Facebook's new Oversight Board which also includes representatives from Australia, Taiwan, Pakistan, the United States and the United Kingdom and was first announced by founder Mark Zuckerberg in 2018.
The newly formed board will initially scrutinise six cases of hate speech, nudity and violence in Facebook's first attempt to develop stronger standards. "The cases may change Facebook policy," Ms. Chen said. "If we make a decision on a case, then Facebook has to follow and respond to our decision."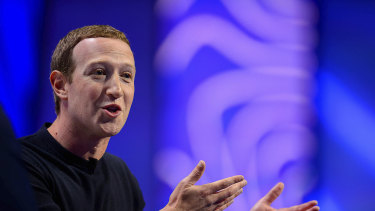 The announcement of the board's first six cases comes amid heightened scrutiny of social media policies in Australia and with rival platform Twitter facing a government backlash after failing to remove a fabricated image shared by a deputy director in China's Foreign Ministry.
Twitter was on Monday trying to assess whether the image had violated its terms of service after Prime Minister Scott Morrison called a press conference to demand the post be taken down, labelling it "repugnant" and "truly offensive". Twitter has censored multiple replies to the image for violating its Twitter rules but not the original post itself.
In the US, Twitter and Facebook have both censored false posts about US President Donald Trump, sparking a backlash in conservative circles. While the platforms argue they are making the right decisions, removal or censoring of content often causes disputes about freedom of speech.
"Facebook is a platform that needs to improve," Ms Chen said. "Before I joined the board I heard lots of complaints about the platform decisions. Some of my friends complained that their accounts were suspended. When we are discussing a particular case, we will bring different cultural values and religious beliefs and liberal and conservative views and we just discuss and debate together."
One particular case the oversight board will examine contained a screen-shot of two tweets by former Malaysian Prime Minister, Dr Mahathir Mohamad who said that Muslims had a right to be angry and kill millions of French people for past massacres. The screen-shots had no caption but were removed for violation of Facebook's hate speech policies. The user said it was posted to raise awareness of the "horrible words" that were said.
Another case involved a post by a Brazil user about raising awareness of signs of breast cancer. Eight photographers were used in the post, five of which included visible and uncovered female nipples. They were removed for violation of adult nudity and sexual activity.
Facebook has faced criticism for content moderation issues for years. The platform temporarily removed a famous Vietnam-era war photo of a naked girl fleeing a napalm attack, but failed to remove Holocaust denial posts and initially refused to take down posts from President Donald Trump which suggested mail-in ballots would lead to voter fraud at the US election.
A two-year audit of Facebook's civil rights record earlier this year found that the company's elevation of free expression above other values hurt its progress on matters such discrimination, elections interference and looking after users.
While the board only focus on a some issues – hate speech, harassment and safety – it will be crucial in deciding what appears on Facebook and Instagram in future.
All decisions by the board are binding which means that Facebook will have to implement them within 90 days. Each case will be looked at by five panel members and will include at least one member for the regional implicated in the post.
Ms Chen, who said was interested to join the board because of concerns raised about post removals by her friends, assured that Facebook would not interfere in the deliberation process. "We don't feel any interference from Facebook and we are operating independently. That's how I've felt since the first day." Other board members include former Denmark prime minister Helle Thorning-Schmidt, former European Court of Human Rights judge András Sajó, Nobel Peace Prize laureate Tawakkol Karman, former editor-in-chief of the Guardian Alan Rusbridger and Queensland University of Technology law professor Nicolas Suzor.
Source: Thanks smh.com