'No regrets' over Sizzler axing as Collins Foods sales jump on KFC boom
The head of fast-food giant Collins Foods says he is sad but has no regrets over the axing of much-loved buffet brand Sizzler earlier this year after it was unable to weather the COVID-19 pandemic.
Drew O'Malley, Collins' chief executive, said the retailer had put all its efforts into keeping the brand afloat over recent years, but the difficulties caused by the virus was the final nail in the coffin.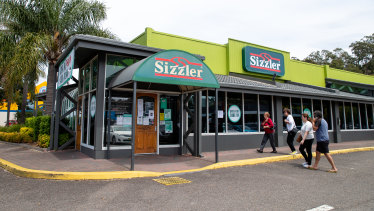 "There's plenty of sadness, we love Sizzler and we're incredibly proud of our team. But regret? I would say no. We put every effort into seeing if we could continue to operate Sizzler through COVID," he said. "But it was a decision that the time had come."
The final nine Sizzler stores in Australia shut their doors for good on November 15 after Collins announced in October that the brand would be no more. Collins' half-yearly results, released on Tuesday, revealed that Sizzler's sales had plunged by more than half since early May.
However, across the rest of Collins' operations, which include nearly 300 KFC restaurants and 13 Taco Bell stores, sales have boomed since May as locked-down Australians opted for fast-food and takeaway.
Total revenue across Collins rose 11.3 per cent compared to the prior corresponding period to $499.6 million, driven primarily by the company's 242 Australian KFC stores, which grew their sales by 15.6 per cent to $415 million.
Sales in the company's 41 European restaurants were more heavily impacted by COVID-19 restrictions, with the region currently experiencing a second wave. Sales fell 4.2 per cent on a comparable basis.
Statutory earnings fell 19.1 per cent to $16.5 million, however when excluding a number of one-off costs and the effects of a new accounting standard, profit rose 15.1 per cent to $27.5 million.
Growth on both fronts was aided by a doubling of the company's digital sales through delivery platforms such as Deliveroo and Menulog, along with click and collect options. Mr O'Malley said he expects the boom in popularity for food delivery to persist even as Australians return to eating out.
"Behaviours during COVID that made life easier for people, such as online delivery, those are the types of behaviours that will stick," he said. "Behaviours that made life more difficult for people, such as social distancing and mask-wearing, those behaviours won't."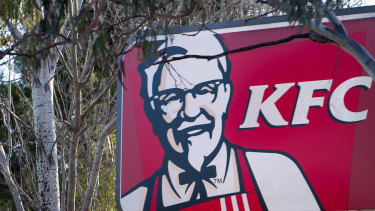 "It was already growing before COVID, but we think it's absolutely going to continue."
Mr O'Malley said the "marriage" between Collins and the food delivery platforms was working well for the company and expressed confidence in their ability to keep delivery riders safe in light of the recent deaths of five delivery drivers in Australia. The chief executive did not say if Collins had raised additional concerns with its delivery partners in response to the recent deaths.
Collins' focus for the new financial year is to continue to grow its core KFC brand, with discussions being finalised with master franchisor Yum! to roll out another 66 KFC restaurants by the end of 2028.
Shares in Collins rose 7 per cent in early trade but have since eased to be up 4.2 per cent just after midday to $9.74. The company will pay a fully franked interim dividend of 10.5 cents on December 18.
Market Recap
A concise wrap of the day on the markets, breaking business news and expert opinion delivered to your inbox each afternoon. Sign up for the Herald's here and The Age's here.
Source: Thanks smh.com