Sydney's wealthiest tightened their belts during lockdown. Now they are spending again
There has been a stark change in Sydney's shopping patterns as those in higher-income districts start to spend up again having closed their wallets during lockdown.
In the early stages of the pandemic, consumers living in Sydney's affluent eastern suburbs and lower north shore districts cut back on spending far more than those in less well-off areas, especially parts of the city's west.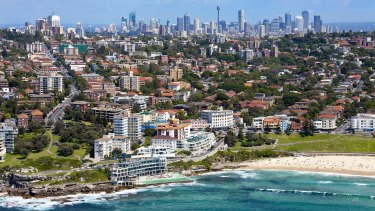 But a real-time spending tracker shows spending in some of Sydney's wealthiest areas had bounced back strongly by September-October.
In mid-April, spending in the Mosman council area on the lower north shore slumped to 23 per cent of pre-pandemic levels. But that district regained its shopping mojo in September-October when spending had bounced back to be 7 per cent above the pre-COVID-19 norm.
Woollahra council area in Sydney's east had the city's largest spending slump at the onset of the pandemic – falling to 19 per cent of pre-pandemic norm in mid-April. But in September-October spending in Woollahra had climbed back to 82 per cent.
The spending tracker, developed by analytics firm AlphaBeta, a part of Accenture, and the credit bureau illion, shows spending in nearly all Sydney's local government areas had improved since the lockdown.
Burwood in Sydney's inner west had the biggest turnaround – spending went from 41 per cent of pre-pandemic norm in April to 55 per cent above normal in September-October. The next biggest spending improvements were in Canada Bay, Mosman, North Sydney and Bayside. All of those areas were in the worst third of Sydney council areas for spending declines during the lockdown.
Only two areas had spending levels lower in October than during the lockdown period – the Blue Mountains and Wingecarribee. Both of these areas had the highest relative spending levels during lockdown.
AlphaBeta director, economist Andrew Charlton, said spending by lower-income earners had played a crucial role supporting the economy in the early months of the pandemic but higher-income earners were now "driving" the recovery.
"At the peak of the crisis, the most affluent suburbs tightened their belts, but other typically lower to middle-income suburbs emerged as the clear leaders in keeping the economy and our communities going," he said.
"We're now seeing a cross over – higher-income people have realised that they have managed to save a significant amount, they're not going on their overseas holidays and they are ready to spend up."
Another factor has been government stimulus payments which encouraged spending by lower-income households in the early stages of the pandemic but are now being wound back.
"We can see how impactful stimulus payments were in supporting lower-income households," Dr Charlton said.
The spending tracker, which draws on a database that tracks the consumption patterns of hundreds of thousands of Australians, shows weekly spending per person across Australia slumped to 20 per cent below the pre-pandemic norm in late April but has now recovered to levels similar to before the coronavirus outbreak.
Separate Commonwealth Bank credit and debit card data released last week showed spending was 12 per cent higher than a year ago in the week ending November 20.
Source: Thanks smh.com