Trump's technology Cold War will continue without him
One of the many legacies of the Trump years will be that trade and national security will be forever intertwined. Previous presidents have been staunch supporters of globalisation, rejecting nationalism and protectionism as they decided the net benefits from supporting allies and boosting world trade far outweighed any cost or risk to America. Donald Trump changed all of this – and officially ended free-market capitalism in the process.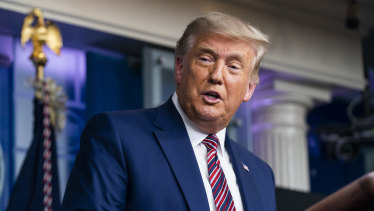 When the 45th president leaves the White House in January, the changes he made to the way the world works will be long lasting. Security issues now "trump" economic issues. The capitalism we knew in the 20th century is over, as governments interfere in business activity to further their political agenda. There is great irony that the US – the world's biggest champion of free markets in the last century – is deliberately restricting and changing the nature of capitalism because it has decided that state intervention is needed after all.
"Economic security is national security," according to Peter Navarro. "And if you think about everything the Trump administration has been doing in terms of economic and defence policy, you understand that this maxim really is the guiding principle." This statement of intent by Trump's trade adviser goes some way to rationalising why the Trump administration attacked allies over trade – targeting Europe over vehicle imports and Canada and Mexico over steel.
Trump used Cold War powers as a tool to implement his "America First" agenda. Section 232 of the country's 1962 Trade Expansion Act permitted the president to impose tariffs based on a recommendation from the US Secretary of Commerce if "an article is being imported into the United States in such quantities or under such circumstances as to threaten or impair the national security".
Prior to the Trump administration, 1986 was the last time that a US president introduced trade restrictions under Section 232, based on a 1983 investigation into imports of machine tools. Since the creation of the World Trade Organisation in 1995, the section was not used by any president until the incumbent of the Oval Office. The importance of managing the link between national security and trade now appears to be accepted wisdom on Capitol Hill.
As leader of the free world, where America goes its allies follow. This week, the UK Government unveiled new national security powers through the Telecommunications (Security) Bill to manage threats posed by high risk vendors. The bill officially bans the involvement of Chinese company Huawei in the UK's 5G mobile network. Without such powers, the Government argued that "commercial interests may take precedence over national security risks" to UK telecoms networks – and to the wider UK Critical National Infrastructure.
What was initially framed as a "trade war" at the start of the Trump presidency is clearly no such thing. It's a technology war, with the prize being geopolitical supremacy.
All of the assessments by commentators over the last few years about "who won the trade war" based on flows of goods and services, and jobs returned to the US, are irrelevant. The US is winning the underlying technology war because it is damaging China's ability to innovate by transferring ideas from abroad to its state-directed companies. It is also limiting funding to these companies and attempting to sanction their markets out of existence.
There are now 30 countries that have signed up to the Clean Network initiative. This is a US government-led effort to address what it sees as "the long-term threat to data privacy, security, human rights and principled collaboration posed to the free world from authoritarian malign actors". A Joe Biden presidency is unlikely to change any of this. China hawks in the Trump team are trying to ensure that being tough on China remains a legacy of their time in office, tying Biden's hands on numerous fronts.
Last week, leaks suggested the US is preparing to blacklist 89 Chinese aerospace and other companies, restricting their access to a range of US goods and technologies because of their alleged ties to their country's military. It reportedly sent a navy admiral to Taiwan, a move that is aimed at raising tensions with Beijing to complicate Joe Biden's foreign policy, which supposedly considers Taiwan to be the most sensitive issue in China-US relations.
The United States Federal Communications Commission (FCC) also rejected a petition from China's ZTE. It asked the agency to reconsider its decision designating the Chinese company as a US national security threat. A similar ruling is expecting on Huawei's appeal soon.
With Biden being forced into a corner on the human rights issue after members of the Trump teams started calling China's Uighur Muslim "re-education camps" in its western regions "concentration camps" last month, Trump and his supporters are doing everything they can to ensure that America wins the technology war.
That's because adding Biden's human rights agenda to this already toxic mix, tensions between Washington and Beijing will surely escalate.
These strains are becoming the primary driver of the technology war between East and West. Both sides believe that winning the digital battle will demonstrate the superiority of their political and economic systems. This means the new Cold War is unlikely to thaw under America's 46th incumbent of the Oval Office. But it also means that the free markets on that America was built are going to be a little less free.
Garry White is chief investment commentator at wealth management company Charles Stanley
Telegraph, London
Business Briefing
Start the day with major stories, exclusive coverage and expert opinion from our leading business journalists delivered to your inbox. Sign up for the Herald's here and The Age's here.
Source: Thanks smh.com