Virgin clears relaunch runway as unions back wage freezes
Virgin Australia boss Jayne Hrdlicka has secured in-principle agreements with four major unions to freeze workers' wages in return for job security, as the airline attempts to relaunch under new owner Bain Capital.
Unions representing ground crew, cabin crew, engineers and administrative staff have all backed their wage deals, in a sign relations with Ms Hrdlicka are thawing after unions earlier expressed concerns about working with the ex-Jetstar boss given her tenure at Qantas during a period of toxic industrial relations.
The unions said while the agreements include "pauses" on wage rises for up to two years they also maintained decent pay and conditions, adding that they ensured Virgin would not follow Qantas' recent move to outsource 2400 ground handling jobs.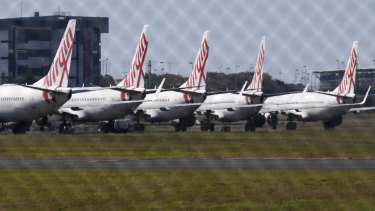 However, Ms Hrdlicka, parachuted into the top job last month, is yet to win over two unions, representing the airline's pilots. Neither has endorsed the wage deal scheduled to be put to a vote of employees in the coming weeks.
Transport Workers Union national secretary Michael Kaine said that the agreements reached with the four unions highlighted the willingness of workers to put Virgin back on the map.
"The focus of Virgin workers is to build back up the airline that they have fought so hard for during the administration process," Mr Kaine said.
"These have been tough negotiations during the backdrop of continuing uncertainty for aviation and upheavals at Virgin."
Meanwhile, Flight Attendants' Association of Australia federal secretary Teri O'Toole said pay freezes were never easy to accept, but workers were determined to ensure Virgin survived under Bain's ownership.
"Workers importantly won commitments on job security and on ensuring that Virgin workers will do Virgin work, instead of contracting work out to outside agencies," Ms O'Toole said.
Ms Hrdlicka acknowledged that Virgin had "asked a lot" of its workforce in in response to the disastrous market conditions and said it was "grateful for their understanding and support".
"We believe the outcome we have achieved working together with the unions will help to create a sustainable future for our airline, and means we can secure more jobs and look to grow again as the aviation market recovers," she said.
Virgin and its larger rival Qantas are both ramping up domestic flying as states reopen their borders after getting the spread of COVID-19 under control, with Virgin saying it will hit 60 per cent of its pre-COVID capacity in January. Qantas last week revised its expectations for Christmas flying from 50 per cent of its pre-COVID domestic capacity up to 60 per cent.
Virgin is relaunching in slimmed down form, with around 56 Boeing 737s compared to around 80 pre-administration and a greater focus on holidaymakers rather than corporate travellers.
Source: Thanks smh.com