Australia's 'gas-fired' recovery plans ignite industry fear
Australia's oil and gas companies are appealing to the Morrison government to take a cautious approach as it begins assessing plans for a domestic gas-reservation scheme, pointing to new research suggesting such interventions discourage investment and don't guarantee lower prices.
As gas producers grow increasingly worried about the knock-on effects of interventions in Prime Minister Scott Morrison's "gas-fired" COVID-19 economic recovery plan, the nation's peak oil and gas association will launch a report on Friday warning price controls and schemes to set aside a certain amount of gas for local buyers could impede the very investment needed to bring on new supply.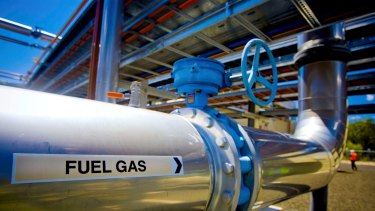 The research from energy consultancy EnergyQuest, commissioned by the Australian Petroleum Production & Exploration Association (APPEA), examined gas market policies of 20 major gas-producing nations accounting for more than 70 per cent of the world's gas production. It highlights examples in Thailand, Malaysia, Argentina, Mexico, India and China where a lack of new supply projects led to gas shortages and, in some cases, the need to import more expensive gas.
"International experience is that government interventions that attempt to reduce or control domestic wholesale gas prices or cross-subsidise other industries are often unsustainable and have numerous negative side-effects," APPEA chief executive Andrew McConville said.
"Therefore, caution is needed when considering any regulatory interventions that could risk the attractiveness of Australia as an investment destination for oil and gas projects – these projects are essential for shoring up Australia's future gas supplies."
APPEA represents the nation's largest oil and gas giants including Woodside, Santos, Origin, BHP, Shell, BP and Jemena.
In a strategy to drive down the high cost of energy for manufacturers and stimulate economic activity, the government's gas-led recovery plan involves opening up new gas basins and underwriting pipelines to boost supply. The government is also considering a scheme to reserve an amount of future gas supplies for local consumption only.
Resources Minister Keith Pitt has sought input from oil and gas producers and energy users for an issues paper about the proposed national scheme. Submissions have closed and the government is assessing feedback, he said on Thursday.
"As the Prime Minister has indicated, the government is committed to a gas-led recovery as we emerge from the coronavirus pandemic," Mr Pitt said.
"Reliable, cheaper gas supply will boost local manufacturing and bring down domestic power bills."
East-coast gas prices have soared to historic highs in recent years, piling enormous pressure on manufacturing plants that rely on gas for energy or as a feedstock. While Australia is one of the world's top exporters of natural gas, most is produced in the nation's north, far away from demand centres in the south-eastern states, and is sold on long-term contracts to overseas buyers.
Manufacturers have been expressing growing frustration over recent months that gas producers have not dropped their long-term contract prices in line with the sharp price falls on the spot market caused by the virus-driven crash in energy demand. Gas on long-term contracts is being offered at prices of $8-10 a gigajoule.
Western Australia presently has a state-based reservation policy, requiring 15 per cent of the state's gas reserves to be set aside for local use.
Industry representatives for gas-intensive manufacturers said boosting east-coast gas supply would not solve all the issues in the market but would create greater competition and was a key part of the solution.
Andrew Richards, of the Energy Users Association of Australia, pointed to the awarding of a gas tenement in south-west Queensland this year, which must be used exclusively for the Australian manufacturing sector, as a positive move that should be replicated across the country.
"We encourage other state and federal jurisdictions to consider how they can also play a role in supporting critical local industries," Mr Richards said.
While welcomed by large manufacturers, the government's gas-led recovery plan has encountered strong resistance from environmentalists and some business leaders who argue stimulus should target clean energy investment not fossil fuels. A new report from the Climate Council on Thursday said rising emissions from the gas industry were cancelling out the gains Australia had made in building a record amount of solar and wind. "Gas is a major driver behind rising global temperatures and Australia is extremely vulnerable," the Climate Council's Greg Bourne said. "Australia needs a renewables-led recovery that will create clean, long-term jobs."
Market Recap
A concise wrap of the day on the markets, breaking business news and expert opinion delivered to your inbox each afternoon. Sign up here.
Source: Thanks smh.com