Qantas CEO says vaccines might open borders sooner than 'travel bubbles'
Qantas boss Alan Joyce says that COVID-19 vaccinations may open the door to international travel sooner than Australia can establish quarantine-free "travel bubbles" with countries that also have the pandemic under control.
Mr Joyce on Thursday reaffirmed that proof of immunisation will be required on Qantas international flights once vaccines are readily available, with the exception of people who cannot take the vaccine for medical reasons. Vaccine documents probably wouldn't be necessary for flights to New Zealand, he said.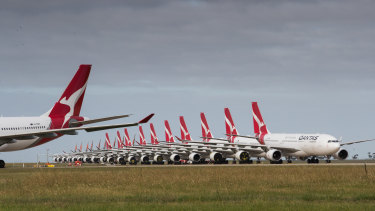 "Australia's success at virtually eliminating COVID means we'll need a vaccine for international travel to restart properly," Mr Joyce said after delivering a trading update to investors.
"We have a duty of care to our people and to our passengers, and once a safe and effective vaccine becomes readily available it will be a requirement."
Even with promising news on the progress of several vaccines, Qantas warned it still expects international flying would remain at a "standstill" beyond June next year, and then take years to recover.
Qantas has previously said it would be quick to add new services to destinations such as Korea and Taiwan if Australia opened a "travel bubble" with those and other countries that have successfully suppressed the virus.
The potential for vaccines to be rolled out […] faster than the bubbles happening is probably real at this stage.

Qantas CEO Alan Joyce
But Mr Joyce on Thursday said vaccinations might come quicker, pointing to the slated Hong Kong-Singapore bubble that has been delayed several times due to renewed outbreaks.
"The potential for vaccines to be rolled out maybe faster than the bubbles happening is probably real at this stage," Mr Joyce said.
Travellers from New Zealand currently do not have to quarantine when arriving in Australia, but it is necessary for those passengers flying in the opposite direction, and Mr Joyce said there was the potential for that to open up to two-way travel now that Australia's state borders were open.
Within Australia, domestic travel is recovering faster than expected, with Qantas' scheduled capacity back to almost 70 per cent of pre-pandemic levels for December and set to hit 80 per cent early next year following the reopening of state borders, the airline said.
The rapid return to flying is an improvement from the airline's outlook in October when it expected to be at just 50 per cent capacity at Christmas, and comes after it plunged to 20 per cent mid-year when the COVID-19 pandemic forced it to ground almost its entire fleet.
"Overall, we're optimistic about the recovery, but we're also cautious given the various unknowns," Mr Joyce said in a trading update released to the ASX in the morning.
"It's unclear what shape the domestic economy will be in next year, particularly once broader government support winds back. Until a vaccine is rolled out, the risk of more outbreaks remains."
Qantas has announced 8500 redundancies since the start of the pandemic, or close to a third of its workforce, in an effort to cut costs – including 2000 job losses this week when it confirmed it would outsource all ground handling work to third-party providers.
Around 13,500 staff remain stood down from work, but the increase in domestic flying meant 11,500 were now working again, compared to 9000 in October. That is expected to rise to 14,000 by March.
The group said on Thursday that while it was still on track for a "substantial" loss this financial year, it now expected to be close to break even at an underlying earnings level in the first half and net free cash flow positive in the second half, excluding redundancy payments.
That was based on the assumption that state borders remained open and international flying beyond New Zealand did not resume materially until after June.
Mr Joyce said COVID-19 would blow an $11 billion hole in the group's revenue this financial year alone. That's why Qantas had to remain focused on its recovery program, which involved "hard decisions" such as redundancies, he explained.
The cost cutting drive is aiming to save $15 billion over three years and shave $1 billion off Qantas' annual cost base from 2023 onwards.
Qantas said its liquidity stood at $3.6 billion, made up of $2.6 billion in cash and $1 billion in an undrawn debt facility, which it intended to increase by $500 million to provide "additional standby liquidity".
Source: Thanks smh.com