Hour Glass ticks over on historic Collins Street jewel
Singapore-listed property investor and luxury retailer The Hour Glass has emerged as the mystery $65 million buyer of one of Collins Street's finest buildings, the eclectic Renaissance-style home of uber-luxurious Louis Vuitton in the street's Paris end.
Although the deal is yet to settle, confirmation of the new owner comes from a buyer caveat placed on the National Trust classified building at 139 Collins Street, which sold well above its original $50 million expectations.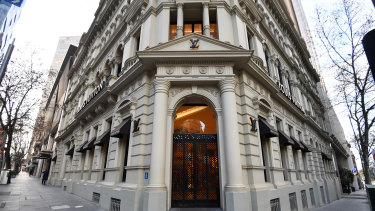 The Louis Vuitton store's vendor was the wealthy Kearney family, who have just offloaded another city freehold, a four-storey, totally vacant building at 88 Elizabeth Street.
The family famously offloaded another Melbourne retail icon – the Block Arcade – six years ago for $78.88 million.
They also own two other city buildings: Austock House at 336-342 Collins Street and Permanent Trustee House at 296 Collins Street.
There was some market speculation The Hour Glass might be positioning itself to take over Louis Vuitton's Collins Street space once the global luxury brand's lease runs out in 2026, but the watch retailer's heavy investment in its own Melbourne store may put a dampener on any such move.
It recently spent a significant sum renovating its boutique in the heart of Collins Street at No. 252, a building it purchased in 2002 for $7 million.
The Alexanders building in Elizabeth Street, which has 480 square metres of internal space, was brokered by Colliers International's Oliver Hay, Matthew Stagg, John Marasco and Daniel Wolman, the same agents that negotiated on 139 Collins.
The late barrister John Kearney bought the building in July 2002 for $2.75 million. It's on a 160-square-metre plot. Magazine retailer Mag Nation occupied the ground floor and mezzanine until March, when the first COVID-19 lockdown shuttered the CBD.
Colliers would not comment on either transaction, but 88 Elizabeth is understood to have sold for a tad more than $8 million.
Both deals will be a boost to the city's flagging commercial real estate sector, which has struggled for traction through an extended pandemic lockdown.
Few city landmarks came on the market early in the pandemic apart from two notable buildings: David Jones' flagship Bourke Street Mall store and the Bank of China building in Queen Street.
But the market is now gearing up with some recent new listings: the former Yooralla building opposite Flinders Street Station and an 11-level, 3716-square-metre tower at 124 Exhibition Street.
During the lockdown, JPMorgan Asset Management managed to quietly sell its struggling St Collins Lane mall for about $125 million to Vantage Property in a joint venture with Credit Suisse Asset Management.
The Louis Vuitton building has a lettable area of 1661 square metres. Occupants on the upper levels include blue blood lawyers, corporate advisory and financial firms.
The Hour Glass, founded in Singapore by wife-and-husband team Jannie and Henry Tay and now listed on the country's bourse, is best known for its luxury retailing of watch brands such as Rolex, Patek Philippe and Jaeger-LeCoultre, but it also owns multiple properties throughout the Asia Pacific.
The company owns real estate in Sydney, Brisbane, Auckland, Singapore and other Asian countries, operating its retail outlets from some of its buildings.
It also owns Watches of Switzerland, a chain in Singapore that trades in mid-tier to high-end Swiss timepieces and manages more than 40 boutiques across twelve cities in the Asia Pacific.
Source: Thanks smh.com