'Take the champagne and celebrate': Soaring Nuix caps off post-pandemic IPO frenzy
Nuix has capped off the post-COVID IPO frenzy by adding $1 billion to its already lofty valuation when it made its ASX debut, but chief executive Rod Vawdrey is not concerned about investor expectations after a strong first quarter put it on track to hit prospectus forecasts.
Investors who bought shares before the float at $5.31 watched the data analytics group's stock rocket more than 60 per cent to $8.50 on its debut on Friday afternoon.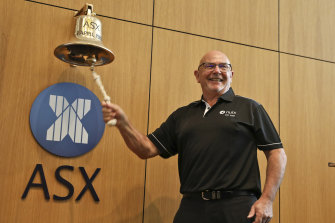 "It's wonderful for everybody to see the first-day recognition of the value we bring to the market," said Mr Vawdrey.
"I'm probably more excited about the next chapter, but I will take the champagne and celebrate today."
He expressed confidence in the company's ability to meet or exceed its prospectus forecasts for revenue of $193.5 million for the financial year and a pro forma net profit of $20 million.
"The view is that we will have a really solid opportunity to make that number and maybe do better," he said.
This is partly based on a particularly strong performance for what is traditionally a seasonally tough first quarter.
"I can tell you that we had a pretty good first quarter, without going into specific numbers," he said.
This included new bookings and new customers coming on board for its products, which are used across industries that range from health to legal offices and government security departments like the US Department of Homeland Security. More than half of the company's business comes from the US.
The booming share price was an added bonus for Nuix's major shareholder, Macquarie Group, which cashed in $575 million worth of shares as part of the IPO and retained a 30 per cent stake that was worth as much as $855 million when the stock briefly soared to $9.
The sale was expected to help prop up the investment bank's earnings, which have been hit hard by the pandemic. In September Macquarie said it expected to report a shock 35 per cent slump in net profit for the current half year.
Unlike most of its investments, Macquarie's Nuix stake was acquired with its own money, so it gets all of the upside from its investment. Macquarie has now made more than $1 billion in profit on its investment of $100 million to $150 million dating back to 2011.
UBS said it would expect Macquarie to sell down its Nuix stake in tranches to help support its revenue flow over future periods.
Business Briefing
Start the day with major stories, exclusive coverage and expert opinion from our leading business journalists delivered to your inbox. Sign up for the Herald's here and The Age's here.
Source: Thanks smh.com