Trump throws one final curveball in his Beijing battle
Donald Trump has scored another victory against Beijing. A bill that will allow US regulators to throw Chinese companies off American stock exchanges will be one of the last major pieces of foreign policy legislation that the president will sign into law.
The move is an effort to starve Chinese firms of funding, but it may impede Beijing's attempt to increase its control over Hong Kong – as the former British colony becomes an even more significant gateway between China and the world's financial markets. It also has significant bipartisan support – so is another sign that a change of president will likely do little to reduce tensions between the world's two significant superpowers.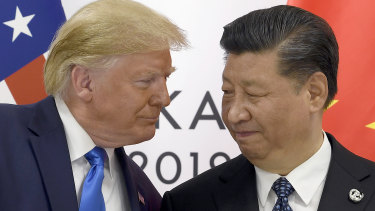 US investors "have been cheated out of their money after investing in seemingly legitimate Chinese companies that are not held to the same standards as other publicly listed companies", Democrat senator Chris Van Hollen, who co-authored the bill with Republican senator John Kennedy, said on Wednesday after the House of Representatives unanimously passed the legislation.
The Holding Foreign Companies Accountable Act stipulates that failure to comply with the US Public Company Accounting Oversight Board's audits for three years in a row will result in a foreign firm's stockmarket listing being scrapped.
The Sarbanes-Oxley Act, introduced in 2002 after the dotcom boom, requires US-listed companies to have their accounts investigated by American officials. China argues that this will violate its state secrecy laws, so its businesses listed in New York do not comply – as instructed by the Chinese Communist Party. The Securities and Exchange Commission has also been working on a related proposal that will reportedly put the responsibility on exchanges to require audit inspection. This will make exchanges such as Nasdaq and the New York Stock Exchange responsible for compliance.
It may therefore make it more expensive for Chinese companies considering an American IPO.
The Trump administration has made numerous moves to limit Chinese companies' access to American money.
In May, US military and federal pension funds were barred from making any investments in Chinese companies, as they were considering placing "billions of dollars in retirement savings in risky companies that pose a threat to US national security".
Chinese companies listed in the US have responded to the threat by seeking secondary listings in Hong Kong. E-commerce giant Alibaba and Chinese tech companies Netease and JD.com now have secondary listings in the former British territory. Indeed, the Hong Kong Stock Exchange itself cited this as one of the factors underpinning its future growth prospects at its interim results.
"The growing trend of US-listed Chinese companies seeking secondary listings on the exchange has brought, and will continue to bring, diversity and vibrancy to Hong Kong's capital markets," Laura Cha, the exchange's chair, said in the results filing.
If access to US pools of capital is cut off, Hong Kong's importance to investment in China will rise.
Of course, time is on the side of these Chinese businesses. They will not face the threat of delisting for at least three years because of the way the law is framed. A compromise agreement may be possible before any action is taken. But with president-elect Joe Biden saying this week that he won't immediately remove the Trump tariffs on China – and his increased focus on the sensitive area of human rights – tensions are clearly not going to ease any time soon.
Chinese companies want to list in America to access deep pools of capital and a large investor base, because it gives their business a higher market valuation than having a listing only in Shenzhen or Shanghai.
Forcing Chinese businesses off American stockmarkets will have a significant and direct impact on the wealth of China and the value of its companies. It also means that Hong Kong's status as the gateway to China will become much more significant. Around 60 per cent of the money invested in China by foreigners flows through the territory.
If access to US pools of capital is cut off, Hong Kong's importance to investment in China will rise.
This makes it harder for authoritarian president Xi Jinping as he attempts to tighten his grip on Hong Kong – a move that puts the "one country, two systems" formula at risk.
In June, China passed a wide-ranging new security law, which made it easier to punish protesters and reduced the city's autonomy. Just this week, democracy activists Joshua Wong, Agnes Chow and Ivan Lam were given jail sentences for their involvement in protests last year.
Last month, resignations in reaction to a new crackdown by Beijing left Hong Kong's legislative council with no pro-democracy voices for the first time since the territory was handed back to China in 1997.
All of Hong Kong's dissenting lawmakers resigned after the Chinese Communist Party forced the removal of four of their colleagues when Beijing passed a resolution allowing the dismissal of politicians deemed a threat to national security. The city's pro-democracy legislators had 19 seats in the 70-seat legislature in October; now there are none.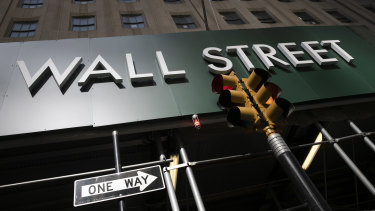 It is unclear whether this will make Beijing act more cautiously as it attempts to tighten its grip on the territory – and it's probably too early to declare "the end of Hong Kong" as we know it in the finance industry. But as Chinese philosopher Lao Tzu once said: "The journey of a thousand miles begins with one step."
US authorities have now taken many steps towards this outcome. President Trump will surely be pleased with the wider significance of the Holding Foreign Companies Accountable Act as he's signing it into law.
Garry White is chief investment commentator at wealth management company Charles Stanley
Telegraph, London
Business Briefing
Start the day with major stories, exclusive coverage and expert opinion from our leading business journalists delivered to your inbox. Sign up for the Herald's here and The Age's here.
Source: Thanks smh.com