Geelong oil refinery 'energy hub' plan gains global backers
The owner of the Geelong oil refinery has struck deals with Japan's Mitsui, France's Engie and trading giant Vitol to become partners in its plan to develop a shipping terminal at the site to import natural gas and consider other expansion opportunities.
Viva Energy, which is considering shutting down the 65-year-old refinery after losses blew out to nearly $80 million, on Monday said it had entered into agreements with two consortiums to help transform the site into an "energy hub", beginning with liquefied natural gas (LNG) imports.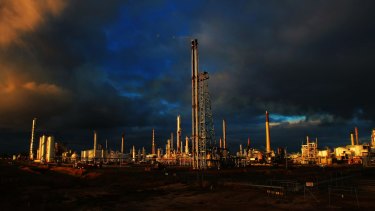 Chief executive Scott Wyatt said the new partners would sign up to purchase LNG from the terminal as well as bringing significant operational expertise from similar LNG projects globally.
"We are very pleased to have such strong partners with experience and capability in LNG terminals and gas markets to assist us in continuing to fast-track our project through to a final investment decision," Mr Wyatt said.
"The project will bring new gas supply and competition to our domestic gas markets and is an important part of our wider vision to further develop Geelong as an energy hub for Victoria."
Diversifying the Geelong refinery's 235-hectare site to house new technologies – which Viva said may also include the construction of a solar farm, hydrogen manufacturing and gas-fired power generation – could help support ongoing employment for the refinery's 700 workers, whose jobs are under a cloud as the coronavirus crisis pushes the oil refinery to breaking point.
However, the fate of the refinery remains uncertain. The lockdown-led crash in petrol, diesel and jet fuel demand has gutted the refinery's profit margins and forced a review of the refining division to assess options including permanently shutting down the facility. Mr Wyatt said the review would be completed by the end of the year.
In a sign of the severity of the threat facing refiners, BP has announced the closure of the country's largest oil refinery, the Kwinana refinery in Perth, leaving Australia with three oil refineries remaining and a greater reliance on imported transport fuels. The Morrison government has been leading talks with Viva, Altona refinery owner ExxonMobil and Brisbane refinery owner Ampol to develop a rescue package including a 1.15¢-a-litre payment for locally made fuel.
Viva's plan to import liquefied natural gas – a fuel widely used in power, heating and manufacturing – from elsewhere in Australia and overseas is the second such proposal in Victoria, as power giant AGL fights to gain approval for a environmentally controversial development in Western Port Bay in the face of a community backlash.
LNG imports being increasingly explored as part of the solution to bring down stubbornly high east-coast gas prices, which have been piling enormous pressure on manufacturing plants that rely on it. The Australian Energy Market Operator has forecast a supply shortfall to hit south-eastern Australia as early as 2023.
Viva on Monday said it had entered into agreements with two separate consortia for the project, one involving a partnership between Engie and Mitsui, and the other between Vitol and VTTI. Mr Wyatt said the support of the companies further demonstrated the "strong credentials" for Geelong as the preferred location for an LNG terminal in south-eastern Australia. Being located alongside an established facility such as Viva's Geelong refinery, the site had the benefit of closer proximity to existing gas pipeline, port and processing infrastructure, and could be implemented "with minimal change to the existing site and local amenity".
More to come
Market Recap
A concise wrap of the day on the markets, breaking business news and expert opinion delivered to your inbox each afternoon. Sign up here.
Source: Thanks smh.com