Santos signs 10-year deal with Japan's Mitsubishi for Australian LNG
Santos, one of the nation's largest gas producers, has inked a 10-year agreement with a unit of Japan's Mitsubishi Corporation to supply liquefied natural gas from its $5 billion Barossa project north of Darwin.
In a significant development ahead of making a final investment decision for the $5 billion Barossa project, Santos said it would supply Mitsubishi subsidiary Diamond Gas International with 1.5 million tonnes of liquefied natural gas (LNG) a year from the project, representing 80 per cent of Santos' share of expected gas.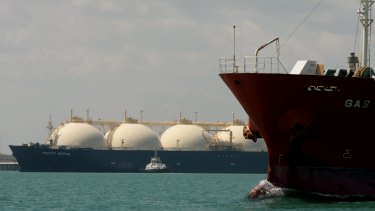 The companies also finalised an agreement to jointly consider opportunities for "carbon-neutral" cargoes of LNG from Barossa. This could include collaborating with Santos on its plans for a carbon-capture and storage project at Moomba in South Australia – which traps carbon dioxide emissions before it is emitted into the atmosphere and stashes it underground.
Santos managing director Kevin Gallagher said the supply and purchase agreement was a significant step towards the company deciding on giving the go-ahead for Barossa. He said the company was targeting a final investment decision in the first half of 2021.
"Barossa is a globally-competitive, low-cost brownfield LNG project providing new supply into a tightening LNG market," he said on Monday.
"Santos is delighted to establish a long-term relationship with Mitsubishi, a major Japanese company with deep LNG expertise."
Santos and Mitsubishi would also work together on investigating carbon-neutral LNG cargoes, which could involve Santos' CCS proposal at Moomba.
Santos said its Moomba carbon-capture and storage (CCS) project would have the capacity to safely and permanently store 1.7 million tonnes of carbon dioxide a year in depleted natural gas reservoirs. The project's go-ahead was subject to the federal government finalising approval of the technology to receive carbon credits.
Santos and Mitsubishi's carbon-neutral plan could also involve exploring opportunities for hydrogen, which burns cleanly and emits only water and is touted as growth technology in the energy sector, particularly as some of the world's biggest-emitting economies including Japan, China and Korea this year announced goals to become carbon-neutral, meaning their use of coal and gas will need to shrink.
Analysts on Monday said the agreement with Mitsibushi Corporation had cleared one of the largest remaining hurdles for Santos before it could reach a final investment decision.
"The signing of a binding SPA with Mitsubishi is a significant step forward for the Barossa project," said Gordon Ramsay, an oil and gas analyst with the Royal Bank of Canada.
"Importantly, this supply and purchase agreement represents more than 80 per cent of Santos' equity LNG volume based on holding a 50 per cent stake in Barossa."
Market Recap
A concise wrap of the day on the markets, breaking business news and expert opinion delivered to your inbox each afternoon. Sign up here.
Source: Thanks smh.com