Dalrymple Bay's $1.3b float sinks amid China fears, growth focus
Dalrymple Bay Infrastructure has failed to replicate the success of fellow ASX debutant Nuix, dropping 16 per cent as environmentally-conscious investors cool on defensive assets and Chinese trade tensions cloud the outlook for coal exports.
The hotly-anticipated $1.3 billion float of Queensland's largest coal export facility on Tuesday turned sour as shares sunk from a listing price of $2.57 to a low of $2.10, an 18 per cent drop.
The former Brookfield-owned terminal, which now counts the Queensland state government among its investors, finished the session 16 per cent lower at $2.16 and its market value slipped under $1.1 billion.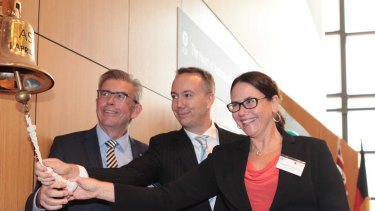 Institutional investors had shown trepidation in the lead up to the company's float amid concerns over the pricing of the deal and a mixed global outlook for coal prices.
According to documents that hit the ASX prior to the company's listing, Canada's Brookfield Asset Management retains a majority stake of about 50 per cent in Dalrymple. Other major investors include underwriter Merrill Lynch, CitiCorp, BNP Paribas and Pershing Securities Australia, the latter of which was convicted of criminal offences in August.
TMS Capital portfolio manager Ben Clark said escalating trade tensions with China over the past two weeks may have also spooked investors who were sold on the company's high dividend yield potential.
"The news that has come out since the float was pitched to investors a couple of months ago has changed… and it changes the yield potential," Mr Clark said.
"Retail shareholders were sold on a dividend promise, and if they don't do the volumes through that port then the yield is not going to be what it is going to be.
"I'm not saying that is going to happen, but China turning their back on us is not a good equation."
Contrasting Dalrymple's dismal debut has been the strong performance of the Macquarie-backed analytics software firm Nuix. The software maker lit up the boards last Friday to soar more than 60 per cent on its IPO price of $5.31. It finished 0.1 per cent lower at $9.05 on Tuesday amid a flat market, but is still up more than 70 per cent in three days with a market cap of nearly $2.9 billion.
Burman Invest Portfolio manager Julia Lee said the differing trajectories of the two biggest ASX floats of the year reflected a wider market trend towards growth and away from defensive assets.
She said while Dalrymple's 7 per cent dividend yield was an attractive sales pitch, stable dividend payers had still been underperforming the market's high growers and the cyclical recovery stories.
"We've had a reset of the business cycle and certainly investors in this phase are probably looking to take on a bit more risk instead of lower risk, higher-yielding investments," Ms Lee said.
"(Dalrymple) would have been a lot more attractive if the economy was phasing down … but with the market having had its best month in 32 years in November it really is about less defensives."
Ms Lee added that Environmental, Social, and Governance (ESG) components undoubtedly played a part in the subdued performance by Dalrymple Infrastructure.
"You look at the sectors that are involved here, it probably tells you a lot about the investing world as well as the world we live in, we're moving away from old-fashioned, environmentally unfriendly coal," she said.
"Investors are a lot more aware… it represents what is popular with shareholders and investors at the moment."
Meanwhile, pre-prepared meal delivery service YouFoodz also slumped on its Tuesday ASX debut, dropping 30 per cent from its $1.50 listing price to close at $1.05. It had raised $70 million through its IPO.
Market Recap
A concise wrap of the day on the markets, breaking business news and expert opinion delivered to your inbox each afternoon. Sign up here.
Source: Thanks smh.com