Genomics giant Illumina hopes to help launch 'bona fide' biotechs
Nasdaq-listed genomics giant Illumina is hoping to help spawn a new generation of cutting-edge Australian biotech startups as it cements its place as a long-term research partner for local businesses.
The $US50 billion ($67 billion) genetic sequencing business is intensifying its focus on the Asia Pacific region, having committed last week to a partnership with the Victorian government and University of Melbourne to helm a new precinct for launching and commercialising medical research with a focus on genetic technologies.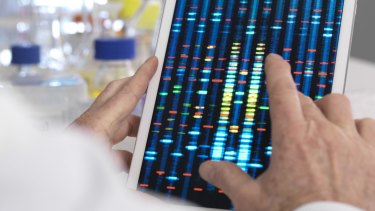 Shares in Illumina are up 63 per cent since the March COVID sell-off, with the stock rallying as the company leant its expertise to a range of projects including developing diagnostics and helping to map the virus.
The company generated $US794 million ($1 billion) in global revenue last quarter, with the pandemic putting the spotlight on the long-term value of genomic medicine, the study of genetic materials and how they interact with or impact an individual's health.
The Australian arm of the Illumina is now looking to use its base at Parkville in Victoria to help commercialise research and build new businesses, said director of market development at clinical genomics at Illumina Asia Pacific, Tom Berkovits.
"We're looking to potentially kickstart companies, thoughts, ideas, ways in which people might utilise genomics, not just in healthcare," he said.
In a panel event on Tuesday, chair of University of Melbourne Centre for Cancer Research Professor Sean Grimmond said the post-pandemic landscape delivered a "golden opportunity" for Victoria and Australia to commercialise more research.
"I think that there's no doubt that with the pandemic ravaging the planet, we are in a fantastic opportunity to do a lot more with health," he said.
"We need to grow our workforce, training of students and interns that are able to divide between genetics, disease, bioinformatics."
Over the past month, investments by state and federal governments into medical research and commercialisation have led industry commentators to champion the biotech sector as a critical sector for Australia's economic recovery from COVID-19. 
Illumina's local commercial lead Simon Giuliano said he could not put a dollar figure on the value that could be unlocked from doubling down on genomics research in the region.
"There is a lot of interest in commercialisation and a fair amount of investment," Giuliano said.
"What I think it does is it starts to solidify the core competencies from academic and research through to [building] bona fide high-tech startup companies."
Source: Thanks smh.com