'Ingredients in place': BoQ pins recovery on growing loan book
The Bank of Queensland has pinned its recovery on growing its loan book after reporting the majority of its customers had started coming off COVID-induced deferrals.
At BoQ's annual general meeting on Tuesday, chief executive George Frazis said the bank's financials were strong if the impact of COVID-19 was stripped away, with mortgage lending back in the red after reporting a $464 million loss in the last financial year.
"Importantly, there are a number of fundamental things within our business that have improved," Mr Frazis said. "Business lending continues to grow in a declining market and that creates long-term value for our shareholders.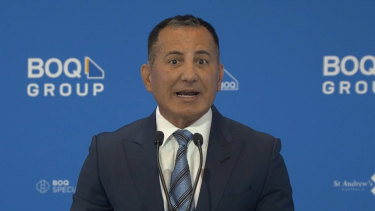 "We've had a turnaround in terms of home loan performance, that has gone from flat to growing at market and we've managed our margins really well.
"All the ingredients are in place for us to deliver strong growth over the short to medium-term."
The bank has grown its business loan book from $127 million to $337 million across the financial year and chairman Patrick Allaway said the bank would continue lending to small businesses in rural communities.
"We've got a very clear focus on the customer and segments of the economy we wish to deal with," he said.
BoQ was one of the hardest-hit by the pandemic in terms of loan deferrals, with 22 per cent of business loans and 11.7 per cent of home loan repayments paused in June. This prompted BoQ to increase its provision for bad loans in September as the bank braced for a longer and deeper recession.
However, the number of deferred loans has now shrunk to 2.3 per cent and 2 per cent respectively, worth a total of $1.3 billion and despite the uncertainty remaining high, BoQ said local conditions were improving.
At the meeting more than 95 per cent of shareholders approved BoQ's remuneration report but key proxy firms, including ISS and Australian Shareholders Association, suggested they would pull support next year if transparency over executive bonuses was not boosted.
ISS said the bank had given excessive weighting to non-financial measures and this was combined with lack of detail around the nature of performance hurdles.
"Shareholders will require full transparency in the FY21 remuneration report to justify STI [short-term incentive] bonuses," ISS's report said. "And failure by the board to address continued concerns for poor STI disclosure may cause shareholders to reconsider their support for the remuneration report."
ASA, the proxy firm for retail investors, said the bank's annual report was "even more opaque than last year's".
"If next year's remuneration report continues in the direction foreshadowed this year we will find it difficult to support," ASA said.
ASA policy manager Fiona Balzer said BoQ shareholders were "long suffering" and criticised the board's decision to award bonuses while dividends were scaled back by 82 per cent and the bank's share price has fallen by more than 50 per cent over the past five years.
"The bank's financials have been in a downward trend for several years," Ms Balzer said, adding bonuses were withheld last year despite higher levels of profit being reported.
"How can you justify any payment of STI bonuses under these circumstances?"
A number of shareholders asked questions about future dividend payments and Mr Allaway said while he could not give any guidance, lifting the bank's performance was crucial.
"Our intent is to pay dividends and we hope to raise payout ratio as our performance improves and as the outlook for the economy stabilises, but unfortunately today I cannot give the confirmation," Mr Allaway said.
BoQ's shares fell by 1.02 per cent to close at $7.80.
Source: Thanks smh.com