'Order books are full': Fortescue sees China's iron ore demand rising
Mining giant Fortescue says iron ore stockpiles at Chinese ports are projected to shrink to a four-year low during the first quarter of 2021, fuelling even stronger demand for Australia's top export despite the China-Australia trade dispute deepening.
The price of iron ore this week surged to a seven-year high above $US145 a tonne amid booming demand from Chinese steel mills and weaker-than-expected output from Brazil, the top producer outside Australia.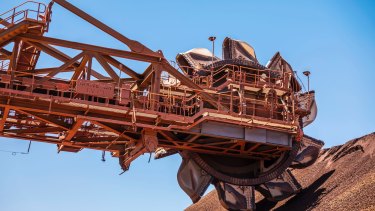 As tensions between Australia and China affect a growing list of export goods, Fortescue chief executive Elizabeth Gaines said customers in China's steel sector were reporting record demand for iron ore – the key steelmaking ingredient – and were becoming worried about ensuring enough supply as Brazil heads into the wet season, Western Australia heads into cyclone season and port stockpiles were drawn down.
"We stay very close to our customers and their order books are full, they are working hard," Ms Gaines said.
"Our customers don't spend a lot of time commenting on the current trade relations. What they are focused on is ensuring the ongoing supply of iron ore."
Danny Goeman, Fortescue's director of sales and marketing, said Chinese stockpiles, which are an important indicator of demand, could dip below 100 million tonnes in the next quarter, the lowest level in years.
"That's the number that a number of industry observers and customers are starting to focus on in terms of what might happen," he said after Fortescue's investor briefing on Wednesday.
"They are getting concerned there may not be enough supply coming in in the next quarter to sustain the momentum in China."
Mr Goeman said Fortescue's customers were reporting their order books were full up to the second quarter "and, for most of them, into the third quarter".
As exporters of wine, barley, meat and seafood have faced tariffs and other restrictions shipping into China, questions have surfaced about the likelihood of iron ore – Australia's single biggest export – becoming caught up in the dispute. Western Australian Premier Mark McGowan, whose state is home to the Pilbara iron ore heartland, said he was worried iron ore could be next on China's hitlist.
However, iron ore appears untouched, with exports hitting an all-time high of $10.9 billion in October, more than 80 per cent of which was shipped to China.
And China's steel production was continuing to grow, Fortescue said, with crude steel reaching 874 million tonnes in the 10 months to the end of October 2020, an increase of 5.5 per cent compared to the same period in 2019.
China relies on Australia for 60 per cent of its iron ore needs. Iron ore output volumes in Brazil, the biggest supplier outside Australia, remain soft amid a slow recovery from disruptions caused by a wave of coronavirus infections. Analysts say the tight seaborne iron ore market means China – where Beijing's massive economic stimulus programs are boosting the need for steel – would struggle to substitute Australian iron ore if it wanted to.
News of Brazilian mining giant Vale slashing its output forecasts last week sent the share prices of Australia iron ore miners BHP, Rio Tinto and Fortescue rising sharply. Shares in Fortescue, whose biggest shareholder is billionaire Andrew "Twiggy" Forrest, have surged more than 15 per cent in the past week alone, to reach an all-time high above $21.
Commonwealth Bank analyst Vivek Dhar said China's iron ore port stocks contracted for three weeks in a row to December 4, indicating "growing deficit conditions".
The fall reflected strong demand from all steel-consuming sectors including infrastructure, property and manufacturing, he said. "China's demand impulse should eventually weaken at some point next year," Mr Dhar said, "especially as China's fiscal policy will likely move away from supporting China's commodity-intensive sectors".
Market Recap
A concise wrap of the day on the markets, breaking business news and expert opinion delivered to your inbox each afternoon. Sign up here.
Source: Thanks smh.com