'Stars are aligning': Perpetual partner flags tech speed bump
Listed wealth manager Perpetual's newest partner Barrow Hanley's boss says a COVID-19 vaccine is primed to deliver a reality check to technology stocks that have soared during the pandemic.
Perpetual acquired 75 per cent of the US value manager last month and Barrow Hanley chief executive Cory Martin said on Wednesday the "parabolic rise" of US and Asian technology stocks had now reached a turning point.
"I'm not calling for those to burst like in '99 but I am saying the market is being set up for a return to a more normal pattern," he told The Age and Sydney Morning Herald following Perpetual's investor day.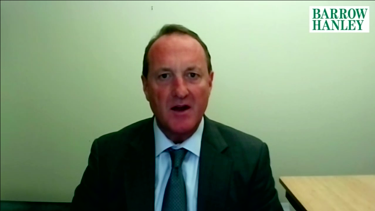 Mr Martin said the difference between technology companies of today and those of the dot-com era is their underlying cash flow. "These companies have real earnings and they're real companies. In '99, the growth companies did not have any earnings."
However, he said the "stay at home" stocks, including Facebook, Amazon, Netflix, had "very extreme" valuations and growth would now return to stocks that had become "compressed springs" – good businesses destroyed by COVID that will now benefit from pent-up demand.
"I know with the vaccine, we will continue to see the cyclical parts of the market, industrial, consumer, airlines, even cruise lines eventually do well."
Investor appetite for cyclical stocks has increased since US drug giant Pfizer released results showing its vaccine was more than 90 per cent effective.
"People will go to conventions. They're not going to work from home forever," Mr Martin added.
Mr Martin also dismissed concerns that US President Trump's refusal to concede could potentially hurt the rollout of a vaccine. "I feel very good about the political situation. I think there's not going to be any basis whatsoever for an unruly handover of power," Mr Martin said. "Trump has no chance legally, none of the things he said hold any legal water at all. The market has already priced in he's out."
Perpetual and Barrow Hanley are both value investors, meaning they buy companies on the cheap that they believe have long-term growth prospects. This style of investing has underperformed over the past decade, however Mr Martin said that was also changing.
"When you look at when value does best, it's in periods coming out of recessions. Or a burst in the growth bubble," he said. "It appears the stars are aligning."
Meanwhile, Perpetual's boss Rob Adams told investors on Wednesday that the wealth manager would keep its "finger on the pulse" for future buying opportunities during this "period of heightened M&A activity".
"We searched the world for world-class investment capabilities that could be sold around the world to retail and institutional markets. That was our focus point."
The Barrow Hanley acquisition will give Australian investors greater exposure to emerging markets, which Mr Martin said is positioned to boom from the COVID-19 dislocation.
"The buying opportunities are right now," he said of emerging markets. "Things are so depressed relative to the rest of the world."
Business Briefing
Start the day with major stories, exclusive coverage and expert opinion from our leading business journalists delivered to your inbox. Sign up for the Herald's here and The Age's here.
Source: Thanks smh.com