Virgin cuts, delays Boeing 737 MAX order as grounded jet returns to skies
Virgin Australia has renegotiated its multi-billion dollar order of Boeing's grounded 737 MAX aircraft, with the carrier slicing its delivery in half to just 25 planes, which are set to start arriving in mid-2023.
The airline first placed an order for 737 MAX aircraft in 2012 but has repeatedly push back delivery as it struggled financially and then after the best-selling short-haul jet was grounded globally last year following two fatal crashes that killed 346 people.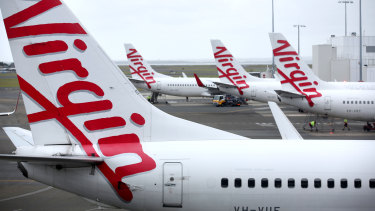 With US aviation safety authorities last month clearing the aircraft to return to service following design updates and additional pilot training, Virgin said overnight that it would accept the first of its 25 new 737 MAX 10 planes in 2023.
Virgin's original order of 23 smaller 737 MAX 8 which were due to arrive in the middle of 2021 has been scrapped. The 25 larger MAX 10 planes were originally due to arrive in 2025.
"The MAX 10 will allow us to build on the operational flexibility we have been able to achieve with our existing fleet… to ensure we remain competitive on the other side of COVID-19," Virgin chief executive Jayne Hrdlicka said.
"The restructured agreement and changes to the delivery schedule… gives us the flexibility to continually review our future fleet requirements, particularly as we wait for international travel demand to return."
Virgin, which went into voluntary administration in April and is now owned by US private equity giant Bain Capital, has stripped its domestic fleet back from around 80 jets to just 56 older variant 737s and also shut down its long-haul operations.
The new 737 MAX order could be used to grow Virgin's fleet or to replace existing planes as their leases expire. Boeing's 737 MAX planes – an updated model of the world's most common aircraft – started flying in 2017 but the newer MAX 10 variant, which can carry up to 230 passengers compared to 176 on Virgin's existing workhorse 737s, is yet to enter service.
Ms Hrdlicka said Virgin would deploy the larger capacity jets on busy domestic and short-haul international routes or where there is a shortage of airport slots.
All 737 MAX models were grounded globally in March last year when a MAX 8 aircraft flown by Ethiopian Airlines crashed killing 157 people, coming after the same type of aircraft flown by Indonesian carrier Lion Air went down in October 2018, killing 189 people.
Virgin said that it remained confident that the MAX would be cleared for service by 2023 in light of the US Federal Aviation Administration's re-certification of the aircraft last month.
"With support from Boeing, any new aircraft will undergo careful evaluation to ensure we are comfortable with it prior to entering service," Ms Hrdlicka said.
"We will also continue to invest in capability that delivers a safe and efficient aircraft operation, and one that ensures safety remains our top priority."
American Airlines is set to become the first airline to resume passenger flights with MAX aircraft, beginning on December 29.
Market Recap
A concise wrap of the day on the markets, breaking business news and expert opinion delivered to your inbox each afternoon. Sign up here.
Source: Thanks smh.com