AustralianSuper looking offshore for multi-billion deals
AustralianSuper boss Ian Silk says the $200 billion superannuation fund is a ready to pounce on any prospective multi-billion dollar deal, even as its $5.1 billion bid for New Zealand infrastructure company Infratil falls by the wayside.
The country's largest super fund placed a bid on Tuesday for dual-listed Infratil, which owns renewable energy and other infrastructure assets across the ditch. However, the offer was promptly knocked back by Infratil, which said the unsolicited bid had "significant deficiencies" and under-valued the company.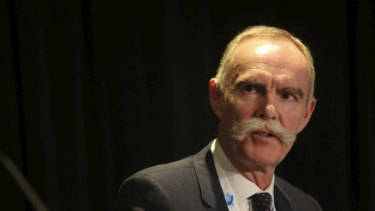 Mr Silk would not comment on the negotiations and with no further engagement with Infratil on the cards, AustralianSuper is already looking to cast its net globally in pursuit of another investment opportunity of that size.
"Small opportunities won't be of interest to us," he said. "We regard ourselves as a global investor, we have about half the fund's assets offshore. That percentage will increase over time."
The industry fund's assets under management have surpassed $200 billion for the first time in its 21-year history and Mr Silk said its global team was keen to invest in private equity, property and infrastructure in the northern hemisphere.
AustralianSuper has long been an advocate for infrastructure investing and now has more than $18 billion in the asset class. These assets are mostly managed by IFM Investors but $7.5 billion is managed internally.
"Australia was one of the world's early adopters of privatised infrastructure," he said. "As a result, there's a lot of private investment in Australian infrastructure so the opportunities in this country are relatively modest.
"It's very much a supply driven market in this country [where] investor-led opportunities [are] few and far between."
The fund has around 40 employees in London, a small cohort in Beijing and opened a New York office in March that remains un-staffed due to COVID-19 travel bans.
With close to 43 per cent of its assets managed in-house Mr Silk said he wants to increase this to 60 per cent in the coming years, adding that internal teams had been influential in improving the fund's performance. However, the major impetus for bringing more functions inhouse was to save cash.
"From a cost point of view, the evidence is very clear," he said. "Last year, the internal team saved $200 million compared to the cost we would have had if it was an external team.
"For a profit-to-member, mutual organisation, that is gold."
"That is a wealth transfer from the financial services industry into the accounts of 2.3 million Australians. That's what this show is all about. That's what industry funds should be all about."
Mr Silk said the effort to internalise its operations would not be limited to its investment teams and the fund would continue to strategically review what the most cost efficient model would be.
"We're looking at which functions we'll bring in-house and which are best provided external to the organisation," he said.
AustralianSuper is one of ASX-listed Link Group's major clients and the company is currently being circled by private equity firms. Mr Silk said he was not looking at immediately bringing administration services in-house but this could change.
"Anything's possible," he said. "We've been administered by Link for 30 years, that's clearly a core relationship for us… But nothing is set in stone."
Source: Thanks smh.com