Singapore Airlines holds out hope for 'travel bubble' with Australia
Singapore Airlines is holding out hope for a "travel bubble" between Australia and the carrier's city-state hub, despite Qantas and other leading aviation figures warning international travel will not resume until a COVID-19 vaccine is widely available.
Singapore and Hong Kong were to start the world's first, long-anticipated COVID-19 travel bubble late last month but it was delayed until next year after a spike in infections in Hong Kong.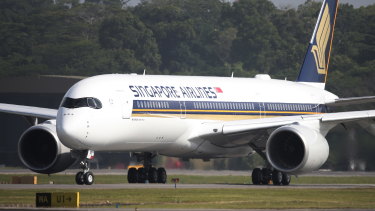 Australia has a "one-way bubble" allowing people to enter the country from New Zealand without going into quarantine while Singapore is already open to travel from Australia. But Australia has not reciprocated and still has a ban on citizens going overseas without a government exemption.
Singapore Airlines executive vice president of commercial Lee Lik Hsin said his airline – which pre-COVID was responsible for about 8 per cent of passenger traffic in and out of Australia, second only to Qantas – still said "bubbles" were a viable option to restart international travel.
"[In] the example of the Singapore-Hong Kong bubble… the governments had discussed and come to the conclusion that it was a safe way to resume mass travel, predicated under certain conditions," Mr Lee said.
"The preconditions changed because the infection rates in Hong Kong went up – that's what's setting the preconditions are for. As far as other countries go … we still look forward to it and we certainly hope Australians and the Australian government think the same."
Qantas boss Alan Joyce has said immunisation will be mandatory on his airline and does not expect international travel to restart until the second half of 2021. Mr Lee said Singapore had not yet considered whether to make vaccination mandatory given the rollout of the vaccine was in its early stages.
Singapore Airlines and other hub airlines have been hit particularly hard by the COVID-19 pandemic because, unlike Qantas and Virgin Australia, they do not have domestic operations from which to generate revenue while international borders remain shut.
Singapore Airlines is one of the few international carriers that has continued to fly into Australia during the health crisis, currently operating 37 services a week, down from 140 pre-COVID. It expects to be flying at about 20 per cent capacity network-wide early next year.
Mr Lee said Singapore Airlines would add a significant capacity back into Australia as soon as the border reopened even if passenger demand remained low. But he would not say whether this would translate to cheaper airfares in an attempt to fill empty seats, noting only that fares were a function of supply and demand.
"Even today when load factors are in their teens we are still operating quite a number of services to Australia. In a normal business environment evaluation, nobody would be operating those flights," Mr Lee said.
"That maybe provides some guidance into how we are also looking into the future – we are not going to hold ourselves to a standard of operating performance that we used to have prior to the pandemic."
Mr Lee said there was no reason Singapore's code share deal with Virgin Australia should not continue after the airline's collapse into administration and relaunch under new owners Bain Capital. Singapore Airlines owned 20 per cent of the carrier before its collapse, and their code share partnership was an important feeder into Singapore's network while also giving Virgin passengers access to city-state's vast international network.

"As long as they continue to fly within Australia and have the capability to synergise with our schedules in and out of Australia internally there is a good basis for a strong partnership," he said.
Singapore Airlines, which is majority owned by the Singaporean state investment fund Temasek, has raised S$12.7 billion ($12.7 billion) in fresh liquidity since the start of the pandemic to see it through the extended grounded of most of its operations, including by issuing rights shares, bonds and raising debt.
Market Recap
A concise wrap of the day on the markets, breaking business news and expert opinion delivered to your inbox each afternoon. Sign up here.
Source: Thanks smh.com