'Aware of the risks of failure': CSL refocuses after UQ vaccine axing
CSL will redeploy hundreds of its staff to work on the Astra Zeneca/Oxford University vaccine candidate for COVID-19, after the local biotech giant abandoned its vaccine project with the University of Queensland (UQ).
Valued at $132 billion, CSL is one of the largest companies on the ASX and the biotech's chief scientific officer Dr Andrew Nash declined to comment on what the shelving of the project would cost the company, citing it was "commercial in confidence".
CSL shares dropped 3.2 per cent to $291.53 after it and UQ confirmed the report in The Age and The Sydney Morning Herald that their v451 vaccine project was being scraped after phase 1 trial participants recorded false positives on HIV tests. The government had inked a billion-dollar deal for the supply of more than 50 million doses of the UQ vaccine earlier this year, which has now been terminated.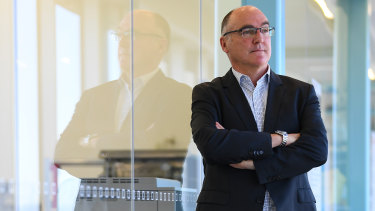 "In terms of resources, we've had to pivot hundreds of people from what they were doing as part of our routine business, around to work on this project. To all of their credit, they have done incredibly well," Dr Nash said.
He added that these staff would now be either redeployed to the AstraZeneca/Oxford project or return to their "business as usual" roles.
"In the way we've had to pivot our workforce and resources, this will take a toll on our team in much the same way it has the University of Queensland."
Dr Nash said CSL would happily engage in similar at-risk development projects in future if asked to do so, however.
"Yes, we would make these same types of decisions again," he said.
"This is what we do for a living — we are very aware of the risk of failure. It is build into our business and built into the minds of our scientists. From a pharmaceuticals company perspective, these things happen all the time."
The decision to abandon the homegrown vaccine candidate has once again shone a spotlight on Australia's limited vaccine manufacturing capabilities. The federal government has ordered doses of Pfizer and BioNTech's vaccine to be imported to Australia. The Pfizer vaccine is an mRNA vaccine, and Dr Nash said it was unlikely CSL could manufacture that vaccine in Australia.
"For us to try and pivot to the manufacture of that kind of vaccine in the timeframe that's required is just not a technically feasible thing to be trying to do at this stage," he said.
He denied that CSL was falling behind other global biotechnology companies that did have the capacity to make mRNA vaccines.
"I don't think we are in danger of being left behind more broadly. We should think about vaccinations more generally, our business is in influenza, and indeed we do have mRNA programs within that part of our business, so it's certainly something we're considering."
Long term institutional investors in CSL were reluctant to weigh in publicly on the news and Australian Eagle Asset management's chief investment officer, Sean Sequeira, said while a succesful UQ vaccine would have been good for research and development within CSL, the termination of the project should not have a significant impact on the business.
"In terms of materiality and growth profile, it's not a significant event," he said.
Analysts had been keen to keep the prospect of CSL's COVID-19 vaccine production out of their models throughout this year because of the uncertainty regarding the outcome.
They had started to model the hypothetical value of the UQ vaccine to CSL, however, with several pointing out that this vaccine had the best chance of delivering profits to the company.
In a note two weeks ago, Morgan Stanley analysts suggested the vaccine could offset profit challenges in CSL's blood plasma business into 2022.
While analysts have been cautious to not count any vaccine developments as a given, the rising optimism around the Moderna and Pfizer vaccine options in recent months had raised expectations, said JP Morgan healthcare analyst David Low.
"This [production of the vaccine] was not in our models, but after the very exciting developments from competing vaccines, this is more disappointing than it would have been a month ago."
Business Briefing
Start the day with major stories, exclusive coverage and expert opinion from our leading business journalists delivered to your inbox. Sign up for the Herald's here and The Age's here.
Source: Thanks smh.com