CSL shelves UQ vaccine plans, says outcome highlights 'risk of failure' with early development
Biotechnology giant CSL has confirmed it will shelve development of the University of Queensland coronavirus vaccine after participants in the phase 1 trial returned false-positive HIV test results.
As reported by this masthead on Friday, a billion-dollar deal made by the Morrison government for the 51 million doses of the vaccine and CSL will abandon further clinical trials of the product, known as v451.
In a statement to the ASX this morning, the $137 billion blood plasma giant said that while the vaccine candidate was safe, data from the phase 1 study lead to the conclusion that "significant changes would be needed to HIV testing procedures in the healthcare setting to accommodate the rollout of this vaccine."
The University of Queensland commenced its phase 1 study of the vaccine, using what is known as "molecular clamp" technology, in July.
Phase 1 trial data showed that some participants showed antibodies after vaccination which interfered with certain HIV diagnostic assays. "It was found these molecular clamp antibodies did cause a false positive on a range of HIV assays," CSL said.
The company emphasised this possibility had been anticipated prior to the commencement of the trial. There was no potential for the vaccine to actually cause HIV infection and the participants returning false positives did not actually have the infection.
However, CSL said this morning the decision had been made to abandon further trials because of the "significant" issues the situation presents for community rollout.
"With advice from experts, CSL and UQ have worked through the implications that this issue presents to rolling out the vaccine to the broader population.
"This outcome highlights the risk of failure associated with early vaccine development," CSL chief scientific officer Andrew Nash said.
In September, a deal was inked between CSL, UQ and the federal government for the production of 51 million doses of the product from CSL's Melbourne production facilities, should the work be successful.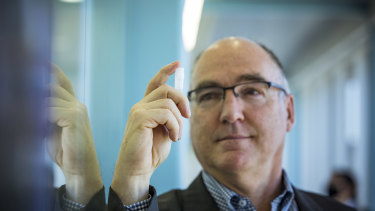 It was the largest deal by dose number that the government purchased, though CSL was keen to repeatedly caution that research projects were challenging and there was no complete assurance that the UQ vaccine would be successful.
Back in August, chief executive Paul Perreault told this masthead Australians should be "prepared for just about anything" when it comes to vaccine development.
"I would say the general population, just like those of us on the research and development side, should be prepared for pretty much anything at this point. It could be one shot, or a series of two shots — that's yet to be determined."
More to come
Business Briefing
Start the day with major stories, exclusive coverage and expert opinion from our leading business journalists delivered to your inbox. Sign up for the Herald's here and The Age's here.
Source: Thanks smh.com