Fitness court battle heats up after F45's listing plans collapse
Group fitness giant F45 Training faces a courtroom battle against competitor Body Fit Training after quietly shelving its plans to list on the US Nasdaq exchange.
F45 Training is known for its 45-minute fitness classes based on functional high-intensity interval and circuit training and it entered into a deal in June to merge with Crescent Acquisition, a special purpose acquisition company backed by investment firm Crescent Capital which would enable it to list.
The listing was slated to value the combined companies at $US845 million ($1.17 billion) however the agreement was terminated in October.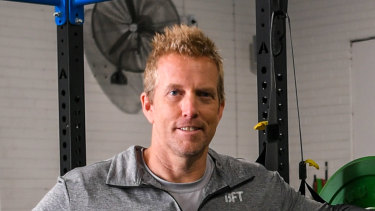 "While we remain optimistic about the current performance and long-term growth prospects of F45, the prolonged uncertainty around the pandemic has challenged our ability to successfully complete the business combination," executive chairman Robert Beyer and chief executive Todd Purdy said in a joint statement.
F45 Training was started in Australia in 2013 by chief executive Adam Gilchrist (not the cricketer), Rob Deutsch and Luke Istomin and grew rapidly with more than 1900 franchises sold including 500 in Australia and investors including US actor Mark Wahlberg.
However on Monday the fitness juggernaut will battle competing group fitness chain Body Fit Training in a dispute over an alleged patent infringement (and unrelated to F45's float hopes) which is listed for a two day hearing in the Federal Court.
In the proceedings F45 Training claims Body Fit Training infringed its innovation patents relating to the management of its franchises through a central computer system.
F45 Training alleges it had suffered financial loss as a result of franchisees who would otherwise have bought a franchise from F45 Training but bought one from Body Fit Training instead.
In its defence Body Fit Training denied it operated open studio environments like F45 Training and instead pointed to fixed equipment, including rigs, astro turf tracks and ski machines in each studio.
Body Fit Training was started by former AFL strength and conditioning coach Cameron Falloon in 2017 and the business is expected to turn over more than $11 million next year.
Mr Falloon said the litigation was a "minor distraction" for his business and he had a strong legal team.
"The reality is the legal team do the bulk of work, we trust them," he said. "They involve us when they need to and they get on with it when they don't. We've got a great team and that really allowed us to focus on our franchisees through Covid and not get too distracted."
Mr Falloon said business was booming for Body Fit Training after a quiet April and May when the coronavirus pandemic first hit with sales of franchises consistent with or above pre Covid levels.
"I think the sales and our growth during that period is also just off the back of a lot of good stories, people do their due diligence and they look into us as a brand and inevitably call franchisees," he said. "We've doubled our head office resources through COVID which not a lot of companies would have done, we realised that we needed to support our franchisees and there's going to be a lot of anxiety around this."
Body Fit Training operates 68 training studios and has sold another 180, the majority of which are slated to open in the next year.
"There's still some significant challenges coming out of COVID-19 and we're by no means out of the woods, as an industry, not just Body Fit Training but as an industry," Mr Falloon said. "But the sky's the limit on it."
F45 Training declined to comment.
Source: Thanks smh.com