Former exec: TikTok 'exhibit A' for Facebook defence in US lawsuits
A former senior Facebook executive has claimed founder Mark Zuckerberg never believed photo sharing app Instagram and messaging service WhatsApp were competitors to Facebook when the tech giant acquired the two companies in 2011 and 2014.
Facebook Australia and New Zealand's former managing director Stephen Scheeler said he was in two minds about whether a landmark antitrust lawsuit brought against the social media company in the US was justified, but said video sharing app TikTok was a perfect example of how competition had not diminished.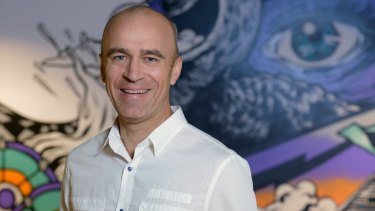 The Federal Trade Commission and 48 of the 50 state governments in the US launched the legal action against Facebook last week. They are pushing for an injunction that would force Facebook to divest Instagram and WhatsApp and for the acquisitions to be deemed illegal. Facebook has described the lawsuits as "revisionist history". Mr Scheeler who led Facebook and Instagram Australia from 2013 to 2017, said that Facebook had a point given the regulator that was suing the tech giant was also in charge of approving the acquisitions less than a decade ago.
"Exhibit A for Facebook's defence is TikTok," he said. "Two or three years ago, when [the regulators] were probably cooking all this up in the first drafts against Facebook, TikTok didn't really even exist," he said. "TikTok is now almost a billion users and nobody would argue that it's not a major competitor. That's always been the problem with technology – the regulators take too long to catch up. And by the time they follow their suit, the suit is not relevant anymore."
Mr Scheeler worked for Instagram after it was bought by Facebook and was still running the local division when the tech giant bought WhatsApp. He said Mr Zuckerberg did not consider Instagram or Whatsapp as competitors of Facebook.
"I don't really think Facebook's acquisition of Instagram lessened the competition because it was so small when they bought it," he said. "Instagram was a different way of doing social media. It was about the phone, it was images, camera-first. Facebook at that time was very text heavy and very desktop based.
"Just a couple of years prior to buying WhatsApp, Mark did not think that messaging was a big thing in terms of social media – he thought it was a completely different thing. I can remember the vibe, the tone, the lack of interest from Mark in messaging because he just thought it wasn't… going to compete with social media."
'A bully trying to bully Australia'
Mr Scheeler also attacked his former employer and Google for threats to affect the quality of their services locally in response to a new piece of legislation that would make them pay for the use of news content. The landmark case in the US came days after the Australian government tabled legislation for a code designed to force Facebook and Google to pay news outlets for the content.
Facebook and Google have not responded to the final proposal, but industry sources have indicated both tech giants are likely to take issue with some elements of the code. Facebook, which threatened to pull news articles from its platform when the draft code was announced in July, has not engaged on the legislative process since then, according to multiple industry sources familiar with the discussions.
The ACCC's bargaining code aims to force Google and Facebook to strike commercial deals with news outlets for use of their content. If Google and Facebook cannot reach commercial agreements with news businesses within three months, the parties must enter a "final offer" arbitration process, with a panel given the power to pick one of the parties' respective offers, or find a more reasonable offer. If the code is put into law, industry executives believe it will set a global precedent. That precedent is what tech giants Google and Facebook want to avoid.
Mr Scheeler said any attempts to hurt services in Australia was threatening democracy.
"They would want to say 'let's make an example of Australia – let's punish the bad child to bring all the other children into line so that they don't try to do the same thing,'" he said. "That's another exhibit as to why Facebook and Google have too much power in this realm and that's exactly why they need to be reined in and regulated in some fashion.
"Don't try to blame it on our government. You're to blame. If you decide to shut things down, it's your call. You're messing with our democracy. It's a bully trying to bully Australia."
However, Mr Scheeler does not believe the final code will help news outlets in the long-term and is pushing for more government funding for journalism. He expects organisations to be "sorely disappointed". A dollar figure of how much news outlets could receive has not been publicly disclosed, but Nine and News Corp have previously said between an annual figure of between $600 million and $1 billion across the industry was appropriate.
"They'll be sorely disappointed that the money is trickle," he said. "Everybody will get angry and maybe there's some sort of sabre rattling and maybe there'll be some revenge legislation. But it will not save them.
"We're going to be back in this place in a couple of years where the government will have to step in and say 'we need to fund journalism'. It's going to be a dribble of revenue.. you'll put another litre on the IV, but it's going to run out. They need more than just this."
Source: Thanks smh.com