Sale of Nine, Seven joint venture on hold until new year
Nine Entertainment Co and Seven West Media's attempts to sell their jointly owned transmission tower company have stalled and are unlikely to be completed before the new year because the media organisations are yet to find a bidder willing to pay the right price.
Seven approached Nine, owner of The Sydney Morning Herald and The Age, in February this year about selling TX Australia, the company which generates free-to-air television signals, to a third party. It later hired investment bank Goldman Sachs to conduct the process, but it is now unlikely a deal will be completed before the new year.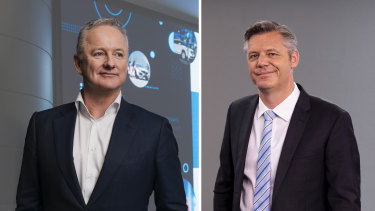 BAI Communications Australia, Axicom and a fund that specialises in infrastructure investments were among a group of bidders that were interested in acquiring the company. Some valued TX at up to $300 million.
But multiple industry sources familiar with the sale process who declined to speak on the record for confidentiality reasons confirmed talks had slowed as no bidder was willing to offer more than $200 million for the entity. Two sources also said Nine was concerned about a spike in fees to use the service following the sale, which would not make the divestment worthwhile. Others said the negotiations had slowed because of the resignation of Nine chief executive Hugh Marks last month.
"Negotiations are continuing and we are working with the final bidders to get to the desired price point for Nine and Seven," TX Australia boss Paul Mullen said.
Seven reported net debt of $425 million at the end of October. It has been trying to sell several assets to reduce the amount it owes. Seven chief executive James Warburton this year sold Pacific Magazines for $40 million to Bauer Media, the company's West Australian headquarters to Prime West Group for $75 million and some of its studio assets to Beyond Production. It successfully secured a two-year extension on its existing AFL broadcast deal in exchange for a discount on the rights agreement and a reduction on its broadcast payments for the Tokyo 2020 Olympics.
A sale of TX Australia is not as much of a priority of Nine. It was not under the same kind of financial pressure before the coronavirus pandemic hit and caused a significant advertising downturn. To adjust to falls in advertising spend, Nine accelerated cost cuts in its television division, suspended a small number of print titles and renegotiated its broadcast deal with the NRL.
Seven was hoping to sell its digital ventures portfolio – which includes Airtasker, HealthEngine and SocietyOne – the rest of its studios business and TX Australia before the end of the year.
"All three processes are in an advanced state and, as we have said before, we will advise the market when we reach an outcome on each of them," a Seven spokesman said. Nine declined to comment on the sale of TX Australia.
The Australian Financial Review reported online jobs company Airtasker was planning to list publicly early next year. One industry source familiar with Seven's thinking said the Kerry Stokes controlled media company could sell its 15 per cent stake to Macquarie Capital, which is preparing the IPO, before it is listed. A separate source indicated other companies like HealthEngine and SocietyOne may be considering IPOs.
Talks between Seven and French production giant Banijay about its studios division have also slowed. The two companies were in advanced talks abut the sale of Seven's studios arm, which produces shows such as Home and Away and Better Homes and Gardens and a data-room was opened. One of the challenges, according to people familiar with the sale process, is that Seven wants to keep the intellectual property of programs such as Home and Away and My Kitchen Rules. Two industry sources familiar with talks also said Fremantle Media had expressed an interest and ITV Studios was also looking at the company.
Source: Thanks smh.com