Alcoa's Portland smelter offered $76m to secure power grid
The owner of Victoria's Portland aluminium smelter says it is encouraged by a $76 million federal government offer to support the plant's viability and ensure the stability of the state's energy grid.
US giant Alcoa and its ASX-listed joint-venture partner Alumina Ltd have been in talks with state and federal governments to secure the aluminium smelter's future beyond the expiry of its $240 million in taxpayer subsidies next year.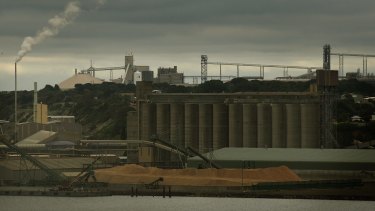 In a move welcomed by Alcoa and union officials, the Morrison government on Monday said it would guarantee four years of payments for the smelter – which uses 10 per cent of the state's electricity – to power down at times of soaring demand, such as sweltering periods in summer when millions of households switch on their air-conditioners all at once, placing strain on the grid.
The funding will guarantee the smelter receives revenue of up to $76.8 million to 2024-25 under the Reliability and Emergency Reserve Trader (RERT) scheme, which is used to reduce its energy usage when the supply-demand balance was tight.
"Alcoa is encouraged by the federal government's proposal," a company spokeswoman said.
"We look forward to working with the federal government to establish an agreement that recognises the valuable contribution Portland Aluminium makes to grid security and helps to ensure the smelter's continued operation."
Alcoa, however, remains in discussions about the smelter's future with the Victorian government for renewed taxpayer support and with power companies to secure a competitive energy supply deal.
An Alcoa spokeswoman said the talks with industry stakeholders to ensure the smelter was globally competitive have been "constructive".
The fate of the smelter in Victoria's south-west has been under a cloud for more than a year since Alcoa unveiled plans to sell up to $1 billion of assets and close down facilities around the world to boost its bottom line and cut greenhouse gas emissions.
Member for Wannon and federal Education Minister Dan Tehan said the federal government was backing the Portland Smelter to remain viable and keep local residents in jobs. "The government's underwriting comes at a time when Victoria has been hard hit by the COVID-19 pandemic," he said.
Australian Aluminium Council executive director Marghanita Johnson said the federal government funding was a recognition of the value of the role aluminium smelters played in stabilising the grid by providing minimum demand and acting as "shock absorbers".
The funding offered some hope that the Portland aluminium smelter would be retained, but was only "one piece of the puzzle".
"Energy accounts for 30-40 per cent of an aluminium smelter's cost bast, and Portland still needs to secure an energy contract," she said.
Market Recap
A concise wrap of the day on the markets, breaking business news and expert opinion delivered to your inbox each afternoon. Sign up here.
Source: Thanks smh.com