Viva Energy takes $40m lifeline offer for Geelong oil refinery
Australian oil refiner Viva Energy will take part in the Morrison government's accelerated industry rescue program to help prevent more plants from closing down, saying the 1¢-per-litre payment for locally made fuels could be a potential lifeline.
The nation's three remaining oil refineries – plants that refine crude oil into fuel products – have been pushed to financial breaking point this year under enormous strain caused by coronavirus-related travel bans hammering demand for petrol, diesel and jet fuel and are facing the threat of closure.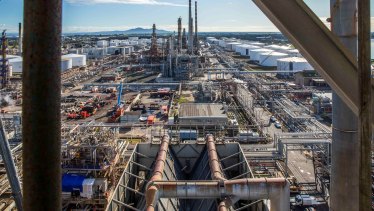 Viva, which is considering shutting down its 65-year-old Geelong oil refinery after losses climbed to nearly $80 million, said federal Energy Minister Angus Taylor's decision to fast-track the rollout of a production payment beginning January 1 would provide "material support" to the sector.
Viva Energy chief executive Scott Wyatt confirmed the company would participate in the "interim" program under which the federal government would provide the payment directly until July 31, when the longer-term subsidy program was expected to take effect. Mr Wyatt said the six-month interim scheme would deliver the Geelong oil refinery $30 million in underlying earnings.
However, Viva's board of directors is still yet to decide whether the Geelong refinery will close down for good or be converted into a fuel-import terminal instead. A decision is expected this week.
To receive the long-term payment, worth an estimated $2.3 billion industry-wide over the next 10 years, oil refiners must agree to continue to operate for the duration of the program from July 31.
"The refining sector has been severely impacted by a significant decline in domestic and global demand for oil products this year, and this is expected to lead to ongoing weakness in refining margins which affects the longer-term viability of our refinery," Mr Wyatt said.
"The refinery production payment announced today … provides material support which underscores the importance of domestic refining to the country's broader fuel security and to the local communities in which our domestic refineries operate."
Another ASX-listed oil refiner Ampol, formerly Caltex Australia, said it appreciated the Morrison government's support during the COVID-19 crisis and willingness to work with domestic refiners.
Ampol is reviewing the future of its Lytton refinery in Brisbane, scheduled to be completed by the second quarter of 2021, after the plant's losses blew out to $141 million this year. "Today's announcement acknowledges the acute challenges facing the refining sector in the short term and provides an opportunity to get long-term settings right," Ampol chief Matt Halliday said.
"Ampol remains confident in our ability to continue to meet our customers' needs through either an import model or a model including operation of the Lytton refinery. We will continue to engage with government as we work through the review."
In October, British oil major BP announced plans to shut down Australia's biggest oil refinery, the 150,000-barrel-per-day Kwinana refinery in Perth, leading to about 600 job losses. Union leaders representing refinery staff have been in Canberra this month pressing for urgent support to prevent any further closures.
Australian Workers Union national secretary Daniel Walton said Mr Taylor's package announced on Monday showed Australia "can and should retain its fuel-refining capacity".
"Today's announcement is a hugely important step," Mr Walton said.
"On behalf of the thousands of AWU members who refine fuel in Australia, I commend the government for listening and for acting.
Viva Energy's share price closed 0.97 per cent to $2.05.
Market Recap
A concise wrap of the day on the markets, breaking business news and expert opinion delivered to your inbox each afternoon. Sign up here.
Source: Thanks smh.com