ANZ Bank cartel trial slated for 2022, judge slams delays
A trial for the cartel case involving big four bank ANZ has been slated for 2022 after Federal Court Justice Michael Wigney slammed the corporate regulator and banks for delays.
Justice Wigney implored all parties to "get the ball moving" on the landmark case involving senior investment bankers from ANZ Bank, Citigroup and Deutsche Bank that have been accused of acting in a cartel while executing a $2.5 billion capital raising by ANZ in 2015.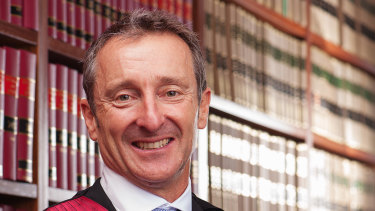 "These charges have been hanging over the heads of these individuals but also major corporations. They have to be brought to a head. It's intolerable for it to go on," Justice Wigney told the Federal Court in Sydney on Tuesday.
Justice Wigney said the case would be given "absolute priority" by the courts as he would like to finalise the case "before we all retire".
The lawsuit has been dragged out for more than two and a half years after applications for key documents have been denied.
Sally Dowling, SC, acting for the ACCC, told the court JPMorgan's internal and external legal team Gilbert and Tobin were refusing to hand over first account interview documents, claiming legal professional privilege.
Tim Game, SC, acting for ANZ, said his legal team had been given assurances those witnesses would be made available to him, and that access to those documents may shape the next steps of his defence, including a potential challenge of JPMorgan's indemnity.
"The JPMorgan witnesses are the heart of the prosecution's testimonial case," he said.
Justice Wigney granted leave for the ACCC to issue subpoenas to JPMorgan and the parties are scheduled to meet in court on February 22 next year with the view to start a trial "anytime in 2022".
The ACCC alleges the cartel was formed during a capital raising for ANZ in 2015 when the bankers were faced with a shortfall of $791 million after the raising was botched by the banks.
As the three international investment banks, Citi, Deutsche and JPMorgan had underwritten the placement, they were forced to take up more than 25 million of ANZ's unsold shares and sell them at a later date.
The ACCC alleges the bankers agreed over telephone calls following the raising over how these excess shares would be offloaded on the market to keep a floor under ANZ's share price. Then-treasurer Scott Morrison described the matters as "very serious" in 2018.
The banks and the bankers are all defending the charges and have denied the allegations.
The six bankers charged in the case – former ANZ treasurer Rick Moscati, Citi's former country head for Australia, Stephen Roberts; Citi bankers John McLean and Itay Tuchman; Deutsche Bank's former country head Michael Ormaechea, and former head of equity capital markets for Australia and New Zealand, Michael Richardson – face up to 10 years' jail if found guilty.
Companies face maximum penalties of 10 per cent of annual turnover, or three times the benefit gained from criminal cartel behaviour, if found guilty.
ANZ's share price was marginally lower at $23.17 just after midday.
Market Recap
A concise wrap of the day on the markets, breaking business news and expert opinion delivered to your inbox each afternoon. Sign up here.
Source: Thanks smh.com