Geoff Wilson lobs offer to buy Amaysim shares
Fund manager Geoff Wilson's WAM Capital has lobbed an offer to buy 100 per cent of Amaysim's shares if a sale of the virtual mobile business to Optus Singtel is approved in January.
The WAM bid has no effect on the $250 million offer put on the table for Amaysim's mobile business by Optus in early November but will allow investors in Amaysim, a large number of whom are based overseas, to receive value for their shares immediately after the sale.
Amaysim's board is unanimously recommending that shareholders accept the offer, which will give WAM Capital ownership of all shares before the payment from Optus is received and allow the firm to maximise franking credits.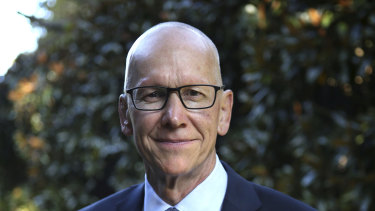 Mr Wilson said the offer allowed shareholders to receive value for shares in early February rather than waiting until September 2021.
"It's a good deal for both Amaysim and WAM shareholders," he said. "Amaysim shareholders can accept WAM shares and received about 84¢ in value or, if they accept the cash alternative, will receive 69.5¢ in cash as soon as they accept the WAM takeover," he said. "The takeover is pre-tax net tangible assets accretive for WAM Capital and a secondary benefit is that part of the planned Amaysim distribution will be a $80.7 million fully franked payment."
In a note to WAM shareholders, Mr Wilson said the company was focused on finding opportunities that delivered strong returns with low risk.
WAM's offer has already come under fire from fund manager Merlon Capital Partners, which holds shares in Amaysim. The principal of Merlon Capital Hamish Carlisle told The Australian Financial Review the deal put forward by WAM mainly benefited key management. However, Mr Wilson said the comments were "illogical" and not relevant at all to the takeover offer on the table.
Optus announced plans to buy Amaysim for $250 million in early November, an offer which will allow Optus to gain over 1.1 million mobile customers.
The telco's chief executive Kelly Bayer Rosmarin said at the time that buying Amaysim gave Optus the chance to connect with a large number of new mobile customers.
"This is a strategic (move) for us, Amaysim is the largest (virtual telco) in the market…it's a great brand that resonates very strongly in the market. We see real value in the (Amaysim) brand, our plan is to keep it as a stand-alone brand."
The deal is subject to shareholder approval on January 21, 2021.
Amaysim shares closed the session on Tuesday 2.74 per cent higher at 75 cents. WAM shares also closed in positive territory, up 0.9 per cent at $2.27.
Market Recap
A concise wrap of the day on the markets, breaking business news and expert opinion delivered to your inbox each afternoon. Sign up here.
Source: Thanks smh.com