Half-size lunch breaks at Flight Centre common, court hears in underpayment trial
Former Flight Centre managers say it was common for staff to take 30-minute lunch breaks, despite being entitled to double that under their contracts, an underpayment trial against the company has heard.
The travel giant also benefited financially from suppliers who made presentations at regular regional "buzz nights" for staff, who were given food and drinks but not paid to attend, two told Brisbane's Federal Circuit Court on Tuesday.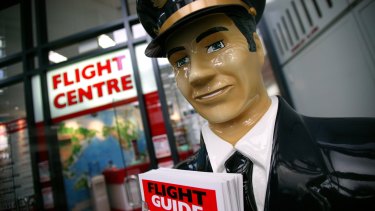 Action brought against the Brisbane-based travel company by the Together union and being heard before Judge Michael Jarrett this week alleges five former staff were underpaid wages and entitlements to the tune of more than $200,000 over a period stretching back years, and potentially thousands of further workers.
Lawyers for Flight Centre have argued that sales staff staying back to finish last-minute sales or quotes, or those which had backed up during the day, was voluntary and for their own financial benefit because they were paid commissions for bookings.
To what extent they worked overtime and how commissions interacted with other entitlements are the key issues at play, lawyer have said.
During the Tuesday morning session, seven current and former store and regional managers who worked above the claimants at various times were called to the witness box by lawyers on behalf of the company.
They gave evidence of patchwork procedures across the business. These often tracked only the days worked by sales staff, not the hours, without directions against overtime or formal processes for allocating breaks spelled out under the award.
Courtney Burvill, a former team leader who worked at the Coomera store in Queensland until early November, said she was "more than happy for [staff] to do what they had to" in their roles after hours because "at the end of the day it was their little business [too]".
Anthony Seller, a former central Queensland area leader who left the company in October, told the court that, prior to 2018 and an enterprise agreement being established, he understood it was "30 minutes for lunch" and another 30 minutes split over two smaller breaks.
The taking of this between store tasks and walking customers through their travel plans was worked out among the staff "just on common sense".
He said he "absolutely" wanted staff to attend the so-called "buzz nights" the court had previously heard could span two-to-three hours but would only be concerned if there was a "succession of non-attendance".
Mr Seller added the wholesalers and suppliers who would often speak at the nights to share new products or updates with staff, alongside updates on store and staff performance, had an expectation they could after contributing money as sponsors.
Another store-based team leader told the court this could be in the form of supplying drinks for the night but the arrangements were "above me".
Paul Bortolussi, who worked as an area leader above another in a Sydney store, was shown a document produced by him for team leaders outlining "expectations" for the staff, though said he did not check these were adhered to.
It described attendance at the buzz nights, a "core part of our success", as key to the businesses. He denied this meant they were mandatory.
The five former staff members being represented by the union, who worked at stores in Queensland and NSW, gave evidence on Monday of pressure to attend the all-but-mandatory events and working long outside rostered hours.
Source: Thanks smh.com