New markets found, but China tariffs leave WA barley growers out of pocket
The boss of Australia's biggest grain exporter says it is on standby to help if the federal government decides to bring in the World Trade Organisation to investigate China's barley tariffs.
Western Australian-based CBH group has been the hardest hit by escalating trade tensions between China and Australia after Beijing imposed an 80 per cent tariff on Australian barley in May over dumping claims.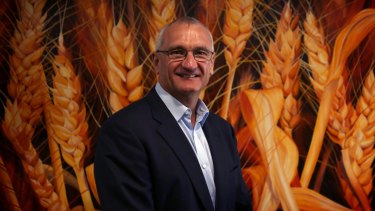 China banned CBH barley altogether in September over concerns there were excessive weed seeds in the delivered product. Both claims are emphatically rejected by the exporter.
Trade Minister Simon Birmingham has linked the moves to broader tensions between China and Australia that escalated in May when the Morrison government announced it wanted an independent investigation into the origins of COVID-19.
Mr Birmingham signalled he was considering calling on the WTO to umpire the barley dispute and is currently gauging support from farmers.
Speaking after the release of the company's 2019-20 annual report, CBH chief executive Jimmy Wilson said the decision was the government's, but CBH was ready to help and he expected the weed seed issue would form part of any WTO investigation.
"Really it's the Australian government that will make the decision as to whether they're going to progress that or not. Obviously CBH will be on standby to support in whatever way they determine applicable for us to help out," he said.
CBH has found alternative markets for its barley including Thailand and the Middle East but they did not pay the premium prices Chinese customers did.
"The WA grower and the Australian grower is being impacted because we are selling into markets where those growers are making less," Mr Wilson said.
CBH chief financial officer Doug Warden said the barley tariffs and ban had resulted in a loss of about $200 million to WA farmers and $500 million across Australia.
China has also imposed tariffs across beef and in November it hit Australia's $45 billion wine industry with a 200 per cent tariff, essentially stopping all Australian exports to the country.
Mr Wilson said CBH had not received any indication other grains it exported would be impacted.
"At this particular point in time we don't have any indication of that, we're hoping that won't occur," he said.
"Obviously we plan for the worst and hope for the best."
A spokesman for Mr Birmingham said the minister was continuing consultation with the industry and a decision on whether the WTO would be called on would be made before Christmas.
Despite COVID-19, China trade tensions and a small harvest of 9.8 million tonnes, CBH recorded a profit after tax of $11 million.
Source: Thanks smh.com