ANZ keeping options open on dividend despite higher repayment numbers
ANZ Bank's new chair Paul O'Sullivan says the lender's dividend policy will be guided by how the coronavirus crisis evolves, despite the bulk of its customers affected by the pandemic lockdowns restarting to make payments.
Mr O'Sullivan, speaking at the bank's annual general meeting on Wednesday, said he was "acutely aware" of how important dividends are to shareholders and committed to reviewing the bank's approach in 2021.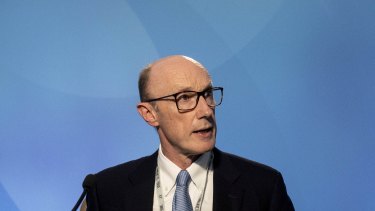 "Ultimately, our final decision as a board will be influenced by how the remainder of the crisis evolves, particularly from a macro-economic perspective, and our views on the longer term sustainability of the dividend," Mr O'Sullivan, who replaced David Gonski in the role this year, said.
The onset of COVID-19 in March forced the banks, in coordination with the federal government and regulators, to offer affected Australians the ability to pause loan repayments for six months. The deferral period was subsequently extended by an additional four months
According to ANZ's latest update on loan deferrrals, 80 per cent of customers had now started making repayments on loans that were paused in March.
The bank saw the sharpest fall in loan deferrals in October, from 95,000 frozen accounts in mid-October to 33,000 in November and then 31,000 as of December 11. Mr O'Sullivan said the figures showed the environment was improving but added "there's still a lot of uncertainty out there".
The cautious note from Mr O'Sullivan came despite the Australian Prudential Regulation Authority scrapping its dividend cap, introduced at the height of the pandemic to preserve capital, on Tuesday citing a significant improvement in the economic outlook.
ANZ put aside an additional $1.1 billion for bad loans in October at the bank's full-year results as chief executive Shayne Elliott predicted the real economic pain for customers would be felt in mid-2021.
However, Mr O'Sullivan told shareholders the bank was closely monitoring changing conditions and indicated previous modelling may have been overly cautious. "Your board will continue to keep an eye on the provisions, continue to estimate whether or not they are adequate, or indeed, whether they may have been over-provided for."
Climate protest vote
The AGM also saw the bank come under pressure from shareholders on climate action, despite it launching an ambitious climate policy at its full-year results in October. Under the policy, ANZ has ruled out financing thermal coal projects or mines and developing plans to pressure its corporate customers to transition to low carbon operations.
Despite this, over a quarter of shareholders (28.9 per cent) voted on a resolution to further reduce fossil fuel exposure – almost double the level of support for a similar resolution last year – and the bank received a number of questions pushing for greater action.
"We are deeply opposed to Santos' Narrabri gas project which will completely destroy our precious groundwater," farmer and Artesian Bore Water Users Association president Anne Kennedy said. "Why does ANZ continue to fund companies like Santos?"
Mr O'Sullivan said he couldn't comment on specific customers but later indicated the bank's climate policy would continue to evolve. "Policy is not something that is static, it's an ongoing transition, we're reviewing it on an ongoing basis."
Meanwhile, the bank's remuneration report, that included Mr Elliott's first pay rise since being appointed as CEO in 2016 to $2.5 million base pay, passed with more than 96 per cent support. However, a number of shareholders criticised executive pay when compared to the bank's general staff, that were given up to 2 per cent pay rises this year.
"How does the board justify these high salary increases for executives with below market increases for staff?," one shareholder said.
With the federal government is currently reviewing whether temporary legislation passed during COVID-19 to allow companies to host virtual AGMs should be made permanent, ANZ has thrown its support behind returning to the traditional format.
ANZ's next AGM will be held in Adelaide and Mr O'Sullivan said he did not support the idea of hybrid meetings – an option supported by Treasurer Josh Frydenberg where digital access is coupled with physical attendance.
"The challenges of running a hybrid AGM are quite significant and it's not something we would not be keen to do if we can avoid it," he said.
ANZ's shares were up 1.6 per cent to $23.33 in late trading.
Source: Thanks smh.com