Rio Tinto takes on steel sector's carbon problem in China and Japan
Mining giant Rio Tinto is accelerating plans to tackle the greenhouse gas emissions caused by its customers across Asia, inking a deal with Japan's biggest steel-maker and investing $13 million with top global producer China Baowu on decarbonisation projects.
Rio Tinto entered into an agreement with Baowu and Tsinghua University in 2019 to develop and implement methods to reduce carbon emissions. Rio's latest investment was the "next step" in the partnership and would be used to fund a low-carbon raw materials research and development centre, the company said.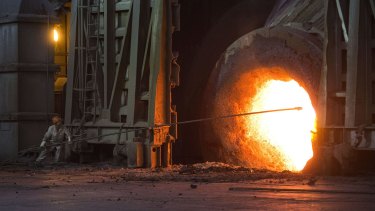 "This investment with our partners at China Baowu is an important step in our climate partnership," outgoing Rio chief executive Jean-Sebastien Jacques said. "We have been able to identify research and development projects which have the potential to significantly reduce the carbon emissions associated with existing steelmaking processes, as well as developing technologies for the future of steelmaking to support the transition to a low-carbon economy."
It comes after Rio, Australia's second-largest miner, on Wednesday struck a memorandum of understanding with Nippon Steel, saying Japan's recent pledge to reach net-zero emissions by 2050 had provided Japanese firms with "greater impetus" to accelerate decarbonisation goals.
Steel mills in Asia are the top consumers of Australia's most lucrative export, iron ore, which is combined with coals in huge blast furnaces at more than 1000 degrees to churn out liquid steel. Despite worsening China-Australia trade tensions, Chinese demand for Australian iron ore remains robust, driving prices above $US150 a tonne and providing a windfall to miners including Rio Tinto, BHP and Fortescue.
However, the vast amount of carbon dioxide emitted in the steelmaking process – responsible for up to 10 per cent of global greenhouse gas emissions – presents a deepening challenge for Australia's mining giants, which are facing shareholder pressure to widen their climate goals to take account for the emissions caused when the commodities they sell are burned or processed around the world, called Scope 3 emissions.
Rio Tinto this year announced $1.5 billion to fund initiatives to reduce its carbon footprint and set a goal to become carbon-neutral across its own operations by 2050. But the company has resisted shareholder calls to follow rival miners such as BHP, Vale and Glencore in pledging to set concrete Scope 3 targets.
More than 37 per cent of Rio Tinto's investors defied the urging of the board and voted in favour of a resolution this year for the company to adopt Scope 3 targets.
Some of the world's major steel producers have started trialling cleaner steelmaking processes that use hydrogen as a substitute for coal. However, traditional blast furnaces are projected to remain widespread for decades to come, requiring the industry to examine other options to reduce carbon emissions.
Commenting on Rio Tinto's $13 million investment this week, China Baowu chairman Chen Derong said co-operation across the steel value chain was key to driving transformation and tackling climate change.
"It requires collective action of the steel enterprises, as well as upstream and downstream players," he said.
Last month, top Australian miner BHP said it would invest $50 million over five years to work on decarbonisation plans with China Baowu.
Source: Thanks smh.com