The rich, the comfortable middle and the rest: Australia's wealth and income ladder revealed
The richest tenth of households owns almost half Australia's private wealth followed by a "comfortable middle" of 30 per cent with 38 per cent, leaving the lowest 60 per cent – who tend to be younger – with 16 per cent of household wealth.
That's the conclusion of new research comparing the upper, middle and lower rungs of the nation's wealth and income ladder.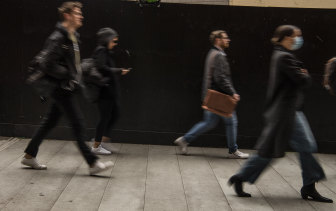 The average net worth of the richest ten per cent reached $4.75 million in 2017-18, underpinned by substantial property assets and a disproportionate share of stocks and business investments. That group owns 46 per cent of household wealth.
The next wealth rung – the comfortable middle – had average household net worth of just under $1.3 million. About half of that group's wealth is tied up in their own home although investment properties (with a net value of $104,000 on average) and superannuation also make substantial contributions.
The bottom 60 per cent of Australian households had average wealth of $277,000, with owner-occupied housing and superannuation the biggest assets.
The average wealth in households with a reference person aged 65 years and over was $1.38 million – 1.5 times that of younger age groups (with an average of $904,000).
Income is more equally distributed than wealth. The best-paid 20 per cent of households had an average pre-tax income of just under $300,000 a year, the middle 20 per cent $116,000, and the bottom 20 per cent $41,000.
A typical household in the middle 20 per cent of Australia's income distribution was a couple with dependent children where a male partner worked full-time on an average wage of about $85,000 per year and the female partner worked part-time with an average wage of about $30,000 per year.
Half of households relying on the JobSeeker payment were in the lowest 10 per cent of the income distribution.
Investment income is highly concentrated at the top end; almost two-thirds of it is going to the most affluent 20 per cent of households, compared to 44 per cent of all wages. The richest fifth of households received an average of $1000 a week from investment income while the top 5 per cent collected $3000 a week.
The workforce participation patterns of women are also influencing the income distribution – couples with two full-time wages were much more likely to be among the top 20 per cent of income earners.
The report by the Australian Council of Social Services and University of NSW draws on the latest Bureau of Statistics data (for 2017-18) and provides a snapshot of the distribution of income and wealth prior to the coronavirus pandemic.
The earnings of many low-income households have been boosted this year by government support measures introduced during the pandemic including JobKeeper, the coronavirus supplement for JobSeeker recipients, and one-off stimulus payments for pensioners and other welfare recipients.
But Australian Council of Social Service chief executive Cassandra Goldie warned that inequality could worsen in the wake of the pandemic if unemployment remains elevated, wages growth is subdued and income support measures are withdrawn.
"If the government continues on its current path focusing on tax cuts and tax incentives for private sector activity there is no question that into the future we will see a serious increase in both income and wealth inequality and the concentration of wealth in the hands of fewer and fewer people," she said.
A recent multi-nation study by the International Monetary Fund examined the effects on income distribution of five major pandemics this century– SARS in 2003, H1N1 (also called Swine flu) in 2009, MERS in 2012, Ebola in 2014 and the Zika virus outbreak in 2016. It found major pandemics had raised income inequality and hurt the employment prospects of those with lower levels of education.
Source: Thanks smh.com