The families who pay the price of Sydney's love affair with toll roads
Death and taxes are certainties the world over. But for Sydney motorists there's a third: road tolls. By my count the city now has 12 of Australia's 21 tolled roads – so with a fifth of the population, Sydney supports more than half the nation's tollways.
We're not just a national outlier on this count. Sydney University transport economist Professor David Hensher estimates Greater Sydney has more toll-road kilometres than any other urban area in the world. Sydney, he says, has become "the great laboratory" for the study of tollways.
With the exception of the Sydney Harbour Bridge, the city's toll roads are now run by private companies under long-term concession agreements with the NSW government. All but two (the bridge and harbour tunnel) are operated by Transurban, which controls about 80 per cent of Australia's toll-road industry.
Last financial year, private operators collected more than $1.5 billion in tolls from Sydney's households and businesses. That figure will rise considerably this financial year with the addition of the NorthConnex tunnel from Wahroonga to West Pennant Hills, which costs cars $7.99 and trucks $23.97 each way. And with several vast projects under construction or in development – including the remainder of WestConnex, the West Harbour Tunnel/Beaches Link, Sydney Gateway and the M6 – there are a lot more tolls in the pipeline.
Labor claims its own modelling, which is based on traffic forecasts in the 2016 WestConnex business case, shows motorists could pay a cumulative total of almost $20 billion in tolls on WestConnex alone during the next decade.
When Sydney's modern tollway network was born in the late 1980s and early 1990s, advocates argued upgrading the city's inadequate road network could be funded one of two ways: with taxes, which might otherwise be spent on schools or hospitals, or with tolls. Because global interest rates were much higher at the time, government borrowing was more expensive and a user pays funding method was deemed necessary for NSW to maintain a premium credit rating. Successive governments – Coalition and Labor – have chosen to fund big new road projects with tolls.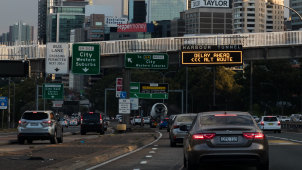 The strategy, which began with the Sydney Harbour Tunnel when it opened in 1992, has transformed Sydney's road network. It also allowed the state government to shift billions from its own balance sheet to private sector. But debate over the efficiency of this approach has bubbled ever since. Economists have questioned why the state government, which can borrow more cheaply than the private sector, chooses to lease major roads (a public good) for many decades to companies with higher borrowing costs. It suggests motorists have paid more in tolls over time than would have been the case if the asset had been kept in public ownership.
Now the availability of real-time, localised spending data has raised troubling new questions about the fairness of Sydney's toll-road network. A study by analytics firm AlphaBeta and credit bureau illion, which scanned the anonymous transactions of millions of Sydney commuters between May and September, found lower-income suburbs bear a disproportionate share of the city's toll burden.
In the Fairfield council area for instance, which had the lowest median income among Sydney's local councils at the last census, households pay an average of $574 a year in tolls or 57 per cent more than the average for inner-metropolitan suburbs. The highest 10 per cent of toll-paying households in Fairfield are spending an average of $6046 a year. But in Ku-ring-gai, one of Sydney's wealthiest areas, households spent an average of just $7.13 per week or $371 a year on tolls.
Toll spending was well above average in a slew of western Sydney council areas, including Camden, Wollondilly, Liverpool, Penrith, Fairfield, Blacktown, Cumberland and The Hills. (Camden council have the highest average household toll spending, at $793 a year, 117 per cent more than the inner-metropolitan average.) A significant share of Sydney's essential workers, including police officers, nurses and teachers, live in parts of the city with high rates of toll expenditure.
The top 10 per cent of toll-paying households in seven Sydney council areas spend an average of more than $6000 a year on tolls, the study by AlphaBeta and illion found.
Those who use toll roads benefit from reduced travel times and high-quality infrastructure. But many Sydneysiders who have settled in affordable outer suburbs poorly serviced by public transport have little choice but to fork out a significant chunk of their income in road charges just to get to work.
This challenge is compounded by patterns of employment creation in the city. A high share of Sydney's well-paid jobs are located in inner-urban job hubs, especially around the CBD, but many in the city's west face a stiff toll levy to access them, which others don't encounter.
One option to make things fairer would be a city-wide road pricing system, where drivers are charged for using the busiest routes at the busiest times, wherever they are.
Some of the world's leading cities, including New York, London, Singapore and Stockholm, have introduced methods of congestion charging, or are heading that way. But neither major party in NSW has shown much interest in the idea so far.
Sydney's toll bill is rising – and there's no off-ramp ahead.
Start your day informed
Our Morning Edition newsletter is a curated guide to the most important and interesting stories, analysis and insights. Sign up to The Sydney Morning Herald's newsletter here.
Source: Thanks smh.com