'Treat yourselves': Fluffy blankets, electronics top of shoppers' list
Fluffy hooded blankets, personalised coffee cups and electronics are among the items Australians are tipped to buy this festive season as retailers prepare for record Christmas spending by cashed-up shoppers.
November and December are the busiest time of the year for shopkeepers due to the trifecta of Black Friday, Christmas and Boxing Day sales, but there were concerns this year would be marred by COVID-19.
However, recent analysis suggests Australians could spend more than usual at the shops this Christmas thanks to government stimulus, inflated savings accounts and a desire to treat loved ones.
"Australia is fortunate to be largely open this Christmas, [and] after a very difficult year, we expect consumers will treat themselves, their family and friends," Craig Woolford, an analyst at investment bank Citi, said.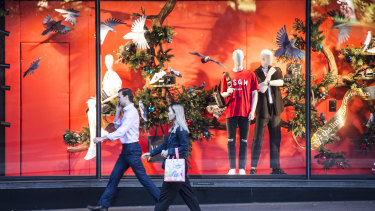 Mr Woolford and his team have calculated that households cumulatively have an additional $120 billion in savings compared to this time last year, a boost they expect will flow into the retail sector.
Households are expected to spend an average of $3700 on Christmas across both food and general retailing, Mr Woolford said, with spending on liquor, electronics and sports-related items likely to be the strongest.
For this reason, Citi believes "conditions are ripe" for major retailers such as JB Hi-Fi, Metcash, Super Retail Group, Harvey Norman and Woolworths. Shares in all five have risen between 1.5 and 5 per cent over the past week, with independent supermarket supplier Metcash near an all-time high.
Payments provider Eftpos expects Christmas Eve will be the busiest shopping day of the year with about 250 transactions every second, the company said.
Paul Zahra, chief executive of the Australian Retailers Association (ARA), told The Age and The Sydney Morning Herald the organisation was expecting to exceed its own forecasts. Research by Roy Morgan, completed for the ARA, predicts Australians will spend $54.3 billion in the lead up to Christmas, a 2.8 per cent rise on last year. Mr Zahra expects the real figures will "easily" exceed those thanks to the current flurry of activity at the shops.
"We're seeing a return to physical stores in a big way, plus with many states coming out of lockdowns there's a general feeling of wanting to be out and about," he said. "There's certainly a new level of consumer confidence."
Boxing Day and post-Christmas sales are expected to soar even further, with the ARA forecasting a $19.5 billion spend, up 3.9 per cent from 2019. In total, Christmas spending is likely to top $73 billion this year.
Concerns over supply and product shortages have plagued retailers all year, but by Citi's estimations stores appear to be well-stocked with no "systemic" shortages, except for certain items like Sony's Playstation 5, some imported liquor and flat-panel televisions.
Despite the bullish outlook, Mr Zahra said there were growing concerns over the northern beaches outbreak in Sydney, which on Sunday grew to a total of 68 active cases, which may dent shopping appetite in the broader Sydney region.
"There's definitely a level of nervousness when it comes to shopping in those locations, and that's impacting people's ability to get out and shop confidently," he said.
CITI'S TOP 10 GIFTS FOR CHRISTMAS.
Google Nest Mini/Hub
Apple Airpod/Pro
Nintendo Switch Console
UE Wonderboom 2
Lego Super Mario
Oodie (a fluffy hooded blanket)
Garmin Vivo Active Sports Watch
Nutribullet
Personalised gifts (such a coffee cups, bottles, leather goods)
Nespresso coffee machine
Source: Thanks smh.com