IKEA unpacks fourth year of losses despite sales boom
Swedish furniture giant IKEA has continued to rack up losses in Australia despite its sales for the 2020 financial year soaring to over $1.5 billion off the back of a COVID-induced boom.
Financial documents filed with the corporate regulator on Monday night reveal IKEA's revenue for the 12 months to the end of August grew 11.4 per cent to $1.55 billion, one of the retailer's most significant sales jumps in years.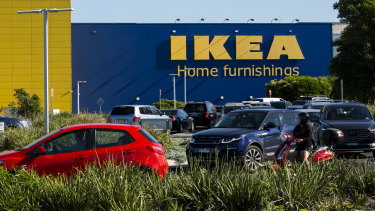 The majority of retailers in Australia have grown their sales this year despite the COVID-19 pandemic as government stimulus and a dearth of leisure spending has flowed into the sector. IKEA's range of flat-packed desks have also likely been popular as millions of Australians were forced to work from home.
However, the retailer's surging top-line growth did not flow through into its profits. IKEA reported a loss of $8.6 million for the year, a slight improvement on last year's $12.1 million loss.
This marks the retailer's fourth year of loss-making operations in Australia. The company operates 10 of its big-box stores across the country, along with an online offer.
In a brief set of statements attached to its financial records, IKEA said COVID-19 had not caused a "significant material impact" to the company's financial performance. It appears the company did not claim the government's JobKeeper stimulus package.
But yet again, IKEA's annual accounts contained a slew of mysterious expenses and fees paid by the retailer to its Netherlands-based parent company Ingka.
IKEA's obscure expenses and extensive franchising fees have been previously accused of serving to reduce the global company's tax bill in Australia, claims the company denies.
The local entity paid a total of $48.7 million in franchise fees, and its 'other expenses' – which the company does not clarify – came in at $142.7 million, $10 million more than last year.
These increases were slightly offset by a more than halving of rent and occupancy costs, down to just $12.3 million, but they were not enough to pull the retailer into the black despite IKEA's gross profit amounting to over $580 million.
Debts owed to its parent company were also reduced in the 2020 financial year, totalling $492 million compared to $595 million last year.
Business Briefing
Start the day with major stories, exclusive coverage and expert opinion from our leading business journalists delivered to your inbox. Sign up for the Herald's here and The Age's here.
Source: Thanks smh.com