Qantas unions to take COVID-19 sick pay fight to High Court
Four unions representing Qantas workers will go to the High Court in an attempt to overturn a ruling that employees are not entitled to sick leave while stood down during the COVID-19 pandemic.
The court action is the third attempt by unions to force Qantas to pay sick, carers and compassionate leave to stood-down workers, with the full Federal Court last month ruling two-to-one in the airline's favour.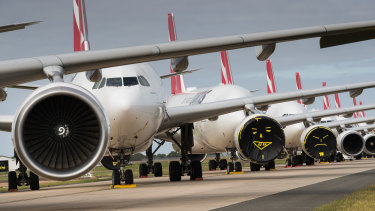 The Australian Council of Trade Unions' assistant secretary Scott Connolly said long-serving employees with cancer and heart disease had been devastated by having their sick pay cut off, and some had agreed to take redundancies just to survive financially.
"Qantas' behaviour toward the most unwell people in its workforce has been callous and illegal," Mr Connolly said.
Qantas stood down as many as 25,000 of its 29,000 employees when the COVID-19 pandemic forced it and other airlines around the world to ground their operations as international and state borders slammed shut.
The airline told employees that while they could take annual, long service leave and parental leave while stood down, they would not be eligible for sick leave because there was no work available to be performed.
Law firm Maurice Blackburn will on Wednesday apply for special leave to appeal the Federal Court decision on behalf of the Transport Workers Union, Electrical Trades Union, Australian Workers Union and the Australian Manufacturing Workers Union.
Maurice Blackburn employment law principal Giri Sivaraman said a High Court decision on the issue would have ramifications beyond just Qantas and affect people working for any company that denied them sick leave while stood down.
"We say that you can't stand someone down who is on sick leave, and if you can't stand them down then you can't withhold sick leave payments from them," Mr Sivaraman said.
"One of the reason the High Court should grant special leave to hear this is because … it's never considered whether you can stand someone down who's otherwise entitled to sick leave."
A Qantas spokesman said that two courts had already supported its decision not to pay stood-down workers sick pay because there was no work for them to be absent from.
Qantas chairman Richard Goyder blasted the union representatives at the airline's October shareholder meeting for "wasting" both their members' and the company's money with 66 legal cases over the past two years, of which all but five failed.
"It's costing us and the members of these unions money that should not be spent in the middle of a crisis," Mr Goyder said.
Qantas has announced it will lay off 8500 people – or about a third of its workforce – since the start of the pandemic including by outsourcing all 2500 of its ground crew workers, who are represented by the Transport Workers Union. The airline now has about 11,500 employees back at work after state borders reopened and domestic flying could resume to around 70 per cent of pre-COVID levels.
Business Briefing
Start the day with major stories, exclusive coverage and expert opinion from our leading business journalists delivered to your inbox. Sign up here.
Source: Thanks smh.com